First-Year New Student Orientation
Welcome to the UM Family!
We are so excited you chose to become a Grizzly! Here's some information to help you get started with your transition to campus.
The New Student Orientation experience extends far beyond course registration. It provides you an opportunity to become engaged with your classmates and your community, to gain the necessary tools to become a successful student and to understand your new responsibilities as a UM student, as well as gain insight into some of the challenges and opportunities that lie ahead.
Be sure to complete the Pre-Orientation Checklist!
Students Beginning in the Spring
Spring New Student Orientation
All incoming first-year, transfer and distance only students are expected to complete an Online New Student Orientation program.  This will introduce students to campus, academic and social resources, current UM students, and more. 
In addition, the online program will walk students through the completion of all necessary tasks in order to prepare them for academic advising and course registration. 
Upon completion of the Online New Student Orientation program students will be connected with their assigned academic advisor to arrange an individual advising appointment.
Additionally, optional in-person sessions will be offered for those who are interested on Friday, January 8, 2021 at both the Mountain Campus and Missoula College.
Registration for the Online New Student Orientation program will open in late October.
Spring Residence Hall Move-In
The first official day of campus housing is Wednesday, January 6, 2021.  Stay tuned for more information about move-in and other details.
Students Beginning in the Fall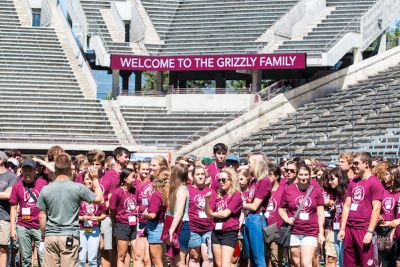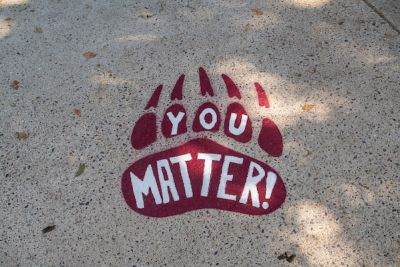 Fall Residence Hall Move-In
For safety reasons, we are implementing a staggered approach to student residence hall move-in that will allow smaller groups of students to arrive between Wednesday, Aug. 12, and Sunday, Aug. 16. If you have not already done so, please log into the myHousing portal to select your move-in date and time.
Freshman Wilderness Experience participants, students in marching band, student athletes and other special groups will follow different move-in procedures. Please contact your respective programs for additional information.
Fall New Student Orientation
Registration for New Student Orientation is now closed - but that's ok!  Simply come to check in any day and we will get you squared away.
Check-in for New Student Orientation will run from 1 to 4 p.m. Aug. 12-16 in Parking Lot A located between the University Center and the Mansfield Library. Students living on campus should try to check-in for orientation the day they are scheduled to move in, while students living off-campus can check in any day Aug. 12-16.  At check-in, students will be assigned to a maroon or gray group, which will determine which orientation schedule they should follow Aug. 17-18.
New Student Orientation will take place in person Monday and Tuesday, Aug. 17-18. All first-year students are expected to attend this program in addition to completing Online Bear Tracks. There is not any family programming during these two days.
Students who are participating in the Freshman Wilderness Experience will select a move-in time for Tuesday, Aug. 11, and will participate in FWE from Wednesday to Sunday, Aug. 12-16. Please visit the FWE website for more information. FWE students are still expected to participate in New Student Orientation Aug. 16-17. Register for FWE here.
All other Big Sky Experience programs are postponed until a later date.
If you have concerns about arriving on time for residence hall move-in or New Student Orientation, please email Director of New Student Success Devin Carpenter at orientation@mso.umt.edu or call 406-243-2332. If you have concerns about arriving by the start of classes on Aug.19, please contact your academic adviser.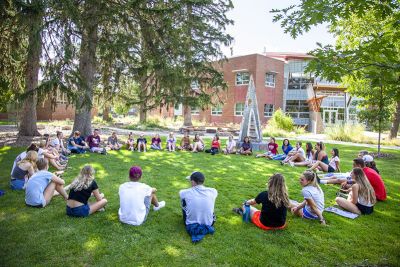 Summer Start
Incoming first-year students who wish to take Summer Start courses should let their academic advisor know during Bear Tracks. Your advisor will work with you to determine which courses make the most sense for meeting your academic  goals. Students who attend Summer Start are required to attend New Student Orientation in the fall.
Non-Traditional First-Year Students
The University of Montana recognizes your transition to college may be a bit different. We encourage you to attend one of the Bear Tracks Registration Events so you are able to meet with an academic advisor and register for classes. You also will need to attend Bystander Intervention Training during your first semester of school. If you do not, you will have a registration hold on your account for the spring.
Non-traditional students do not need to participate in an on-campus orientation program as long as they complete Bear Tracks.
However, non-traditional students are invited to participate in New Student Orientation  if they would like. You can find more information and registration links above.
Transfer Students
To be considered a transfer student, you must have completed 12 semester credits at a college or university, post-high school graduation and earned at least a 2.0 GPA. College credits earned by students still in high school do not count toward this 12-credit requirement. If you are a transfer student, please visit our Transfer Orientation page. 
Post-Baccalaureate Students
Post-baccalaureate students are not required to complete an orientation program. You are able to register for classes on your own or contact an academic advisor for assistance.