We not only serve great food, we grow it, too. We are currently operating and caring for two diversified gardens, an apiary, and orchard, an indoor microgreen operation and six Welsh Harlequin egg-laying ducks. Together, these provide thousands of pounds of fresh food to our dining centers each year, and function as learning laboratories for students and visitors. 
Our agricultural programs are working models of sustainable systems, where diverse production practices are used to grow high-quality produce, healthy soils and happy ducks. 
There are a variety of opportunities for students who wish to get involved with our agricultural programs: including internships, paid garden positions and a garden workshop series. Individuals and groups are always welcome to take an educational tour of our gardens. Contact our gardens manager, anastasia.orkwiszewski@mso.umt.edu,  to learn more!
Campus Gardens and Food Production
A variety of production techniques are on display in the Lommasson Garden, including a native plants garden, a passive solar greenhouse, and an ADA accessible raised bed area. Over sixty varieties of plants are grown in the garden, all using organic production methods.
Nothing compliments a garden like a hive of honey bees. On top of providing pollinator services to our crops, these busy bees are kind enough to make extra honey for us to use in our operations.
Microgreens grow under fluorescent grow lights just outside the Food Zoo Dining center. Campus Dining grows hundreds of pounds of these nutritious little greens every year, which guests can regularly find on our salad bars. Try them heaped on a sandwich or as a garnish for soup.
At just under half an acre, the South Ave Garden has tripled UMCD's growing space and added even more opportunities for students and community members to get their hands dirty. The added space has allowed us to put in a small orchard and experiment with different growing techniques like dry farming and Hügelkultur.
Ducks of a feather
In the spring of 2018, six-day old Welsh Harlequin ducklings arrived in the mail and officially joined the ranks of Campus Dining. Currently living at the Lommasson Garden for the winter, Etta, Hazel, Poppy, Mabel, Kiwi, and Duckleberry Finn are helping us by keeping garden pests in check, fertilizing the orchard space, and laying beautiful and delicious eggs. Thanks ladies!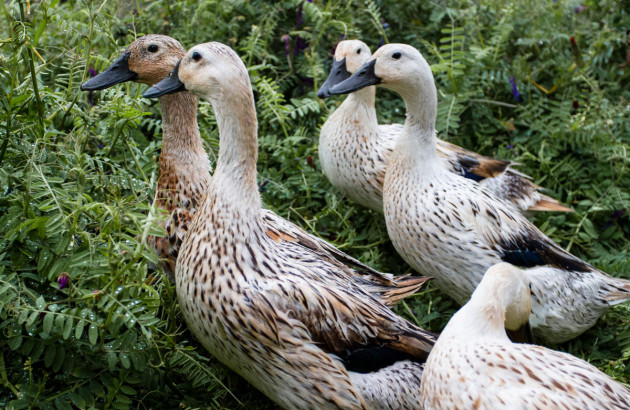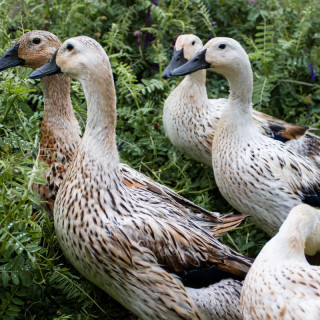 Welsh Harlequin Ducks
Meet Poppy, Hazel, Kiwi, Mabel, Etta and Duckleberry Finn, six Welsh Harlequin ducks who are a popular campus attraction at the University of Montana. These flightless, cold-hardy waddling factories of flavorful eggs are part of UM'sfood sustainability efforts. In addition to producing some 600 eggs each year, the girls are fearsome predators of garden pests and sources of copious amounts of natural fertilizer at UM's on-campus gardens.