Eric Zimmer Joins UM as Western History Specialist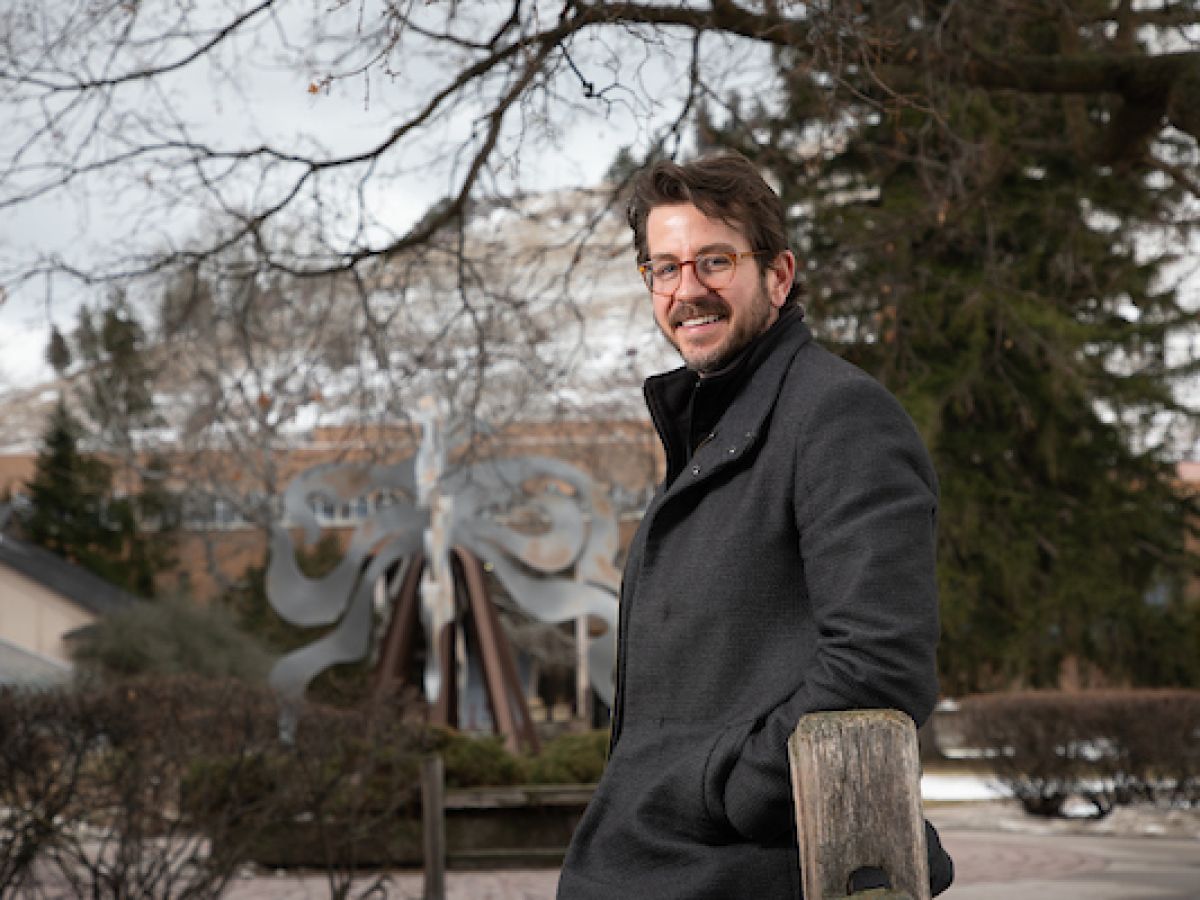 For historian Eric Zimmer, history is more than a set of scholarly books lining an academic's office shelf. It's a living, breathing entity that informs everyday life.
Zimmer, the University of Montana's new A.B. Hammond Visiting Assistant Professor of Western United States History, will spend the next 18 months teaching at UM and bringing the region's complicated history to the forefront of current-day discussions within our community.
"Eric is a dynamic historian of the U.S. West," said UM Associate Professor Kyle Volk, chair of UM's Department of History. "We couldn't be more thrilled that he's joined us and will be helping to reestablish Western history as a cornerstone of our department and its contributions to humanities education on and off campus."
Prior to joining the Department of History, housed in UM's College of Humanities and Sciences, Zimmer worked as a senior historian for a historical consulting firm. There he used narrative, digital, oral and exhibit-based projects for organizations across the country, looking to present historical stories in engaging ways that emphasized the relevance of history to contemporary needs. Zimmer hopes to do the same at UM.
"The University of Montana is a quintessentially Western university," said Zimmer, a Rapid City, South Dakota native who earned his Ph.D. in history at the University of Iowa. "You're surrounded by public lands, and this university has an exceptional record of producing students and faculty working in the American West. I hope to do justice to this tradition and join the conversation."
Zimmer calls himself "a student of Western history," which he points out is "a very human story" with a lot of relevance for the present. Much of his scholarship and community-based work has been projects rooted in Indigenous histories.
He currently is writing a book on the successful and historic efforts of the Meskwaki Nation to buy back its land in Iowa and has served as a volunteer researcher for the Rapid City Indian Boarding School Lands Project.
This Indigenous-led community research project is dedicated to identifying the unmarked graves of Native children who attended the Rapid City Indian School – built to assimilate Native children – and honoring those who died under the policy's harsh conditions. The project also addresses land discrepancies with Rapid City, which has been working with Native stakeholders to develop a multimillion-dollar plan to resolve outstanding land issues. The project also is planning to build a large, outdoor memorial to the children who died at the boarding school a century ago.
"Lakota families in Rapid City have been telling the story of these schools for 75 years, but no one was listening," said Zimmer, who has given dozens of talks on the history of the boarding school, its land and connections to ongoing challenges in the community. "There is more knowledge now, and I've been pleasantly surprised that younger people want to hear it."
As his body of work suggests, Zimmer takes a particular approach to study the past.
Volk said Zimmer is very much a "public historian. He is all about involving the public in the creation of history and also making sure that history reaches the broader public, not just the ivory tower."
Zimmer's work as a public historian makes him a perfect fit for UM, which is the only place in Montana offering undergraduate and graduate students the opportunity to earn a Certificate in Public History, Volk said. The Department of History's program trains students in the methods, theories and ethics that guide how historians exhibit history in public spaces and use their expertise to make history understandable and accessible to the wider public.

This semester, in addition to a historical research seminar focused on the American West, Zimmer is teaching an upper-division course titled Global Indigenous Struggles Since 1900. The course addresses the many common injustices and experiences faced by Native communities – climate change, mining, government oppression – while also talking about their shared strategies for addressing these challenges.
"It can be a trap to only look at negative things," Zimmer said. "While those stories are certainly there and they need to be told, we also need to talk about the incredible resilience of Indigenous peoples. Resilience in their art forms, in their stories, all the way up to organizing on an international level."
Zimmer has been outside the college classroom for a few years and finds today's students more keenly aware of contemporary challenges facing Native peoples and other historically marginalized groups. With growing national discourse on historical issues such as those surrounding the place for Confederate statues in modern society and systematic racism in the United States, students today are challenging the literature and ideas around them. For Zimmer, that's a good thing.
"It's refreshing to get new perspectives – what students hope to get out of their degrees, what jobs they want, what issues are important to them," he said. "It's definitely an inspiration to my work as a public historian."