DAVIDSON HONORS COLLEGE STUDENTS EARN UM'S 2022 PRESIDENTIAL LEADERSHIP SCHOLARSHIP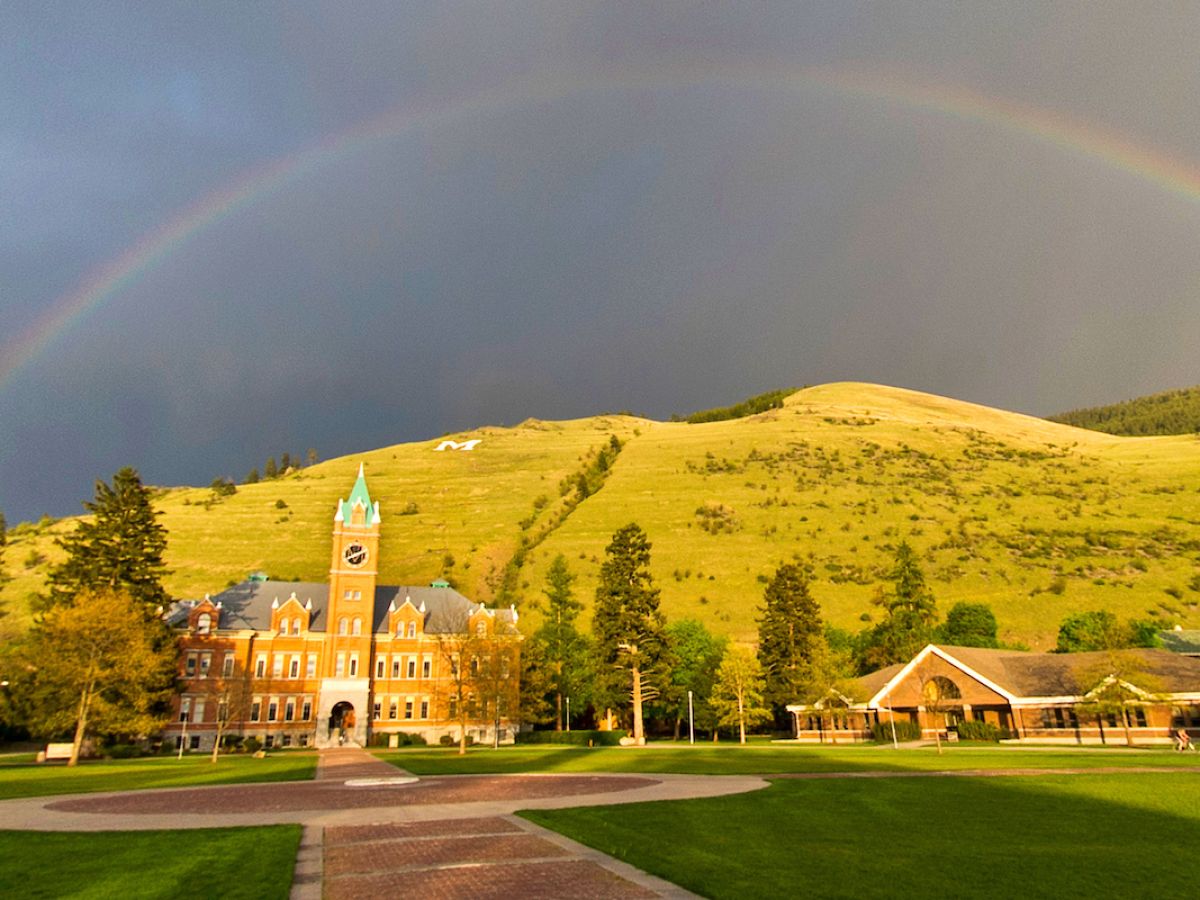 MISSOULA – The Davidson Honors College at the University of Montana recently announced recipients of the 2022 Presidential Leadership Scholarship, the University's most prestigious academic recognition for incoming students.
The 25 Presidential Leadership Scholars were chosen from the DHC's largest-ever cohort of applicants from across the country and represent the pinnacle of academic excellence and service to the community. Presidential Leadership Scholars will enroll in UM's Davidson Honors College in addition to their chosen undergraduate disciplines. At UM they will contribute to academic innovation, garner personal and professional development opportunities and enhance their leadership skills.
"These scholars chose to attend the University of Montana over other institutions because of our academic rigor and the unique honors community we provide at the Davidson Honors College," said Tim Nichols, DHC dean. "We are thrilled to welcome these future leaders to Missoula, where they will thrive academically, promote public service and strengthen UM's vibrant campus community."
The Presidential Leadership Scholarship is a four-year scholarship for incoming UM students. Students' applications and interviews are reviewed by a committee of honors faculty and campus partners. Scholarship recipients are recognized for their meritorious academic achievements, demonstrated leadership skills and professional potential.
"This fall's diverse and dynamic class of Presidential Leadership Scholars includes future scientists and physicians, journalists, lawyers, educators, business leaders and performing artists," Nichols said. "They are valedictorians and varsity athletes, student council officers and all-state musicians. They are advocates for diversity, the environment and for social justice. They already have and will continue to make a difference in their communities."
The 24 Presidential Leadership Scholars will enroll at UM in the fall and represent 12 states, including 11 scholars from Montana. The 2022 UM Presidential Leadership Scholars are:
CALIFORNIA
Charlotte Caistor of Castro Valley, California, will major in wildlife biology at UM. She is passionate about creating opportunities for children from all backgrounds to experience nature. Caistor volunteered at her local wildlife hospital, Sulphur Creek Nature Center, as well as the Oakland Zoo. She enjoys hiking, rock climbing, weight lifting, kickboxing, trapeze arts and participating in intersectional activism regarding climate change, civil rights and animal rights.
GEORGIA

Olivia Willett of Columbus, Georgia, will pursue a degree in biology at UM. She is interested in alternative medicine, preventative care practices and studying how food contributes to the human body on the molecular level. Willett also finds joy in theater, art and creative expression. She has engaged in independent research projects, was recognized at State One Act competitions, created her school's National Art Honors Society chapter and founded the Boys and Girls Club's Junior Theater Organization. She also is president of the Red Cross club, president of the Agriculture "Agricolga" club and vice-president of the National Honor Science Society.
INDIANA

Lisa Venckus is a graduate of Carmel High School in Carmel, Indiana. She participated in cross-country and track and was an inaugural member of the girl's rugby team. Venckus was co-president of the Carmel chapter of the organization A Kid Again and co-founder of the Student Coalition for Consent organization. She is a member of the National Honor Society, Rho Kappa National Social Studies Honor Society and the House of Representatives at her school. Lisa also is active in the student-led climate initiative Confront the Climate Crisis and the Young Democrats club. Venckus loves to be outdoors and never turns down a good cup of coffee.





KENTUCKY

Josie Kleman is from Lakeside Park, Kentucky. She is interested in studying environmental science and sustainability and is passionate about environmental conservation. Her hobbies include hiking, skiing, reading and spending time with loved ones. Kleman also enjoys volunteering and working as a barista at a local coffee shop.








MINNESOTA

Grace Hrabik is from Esko, Minnesota, and is interested in studying environmental science and sustainability. She is a member of the National Honor Society and math team and is graduating first in her high school class. Hrabik was captain of the girls' cross-country team and participated in varsity Nordic ski and track. Her hobbies include scuba diving, hiking and biking.

 
MONTANA

Zoe Belinda of Red Lodge is interested in environmental studies. She is graduating as valedictorian, was a varsity starter in volleyball and won the state championship in speech and drama. Belinda was student council president for her district and was awarded second place at state in Job Interview for SkillsUSA. She describes herself as a country girl who is goal-orientated, driven and ready to succeed at UM.





Riley Crews of Lolo is graduating at the top of her class at Sentinel High School. She is interested in studying elementary education and hopes to become a teacher, for which she is already getting practice as a substitute teacher in Lolo. Crews was National Honor Society secretary and varsity captain of her school's cross-country team. She is a third-generation UM student and is excited to be a part of building the student environment at UM. Her interest in outdoor activities such as hiking, running and skiing made Missoula an ideal place to attend college.




Brady Drummond of Belt plans to major in management information systems and intends to pursue a consulting career after her undergraduate studies. She graduated with honors, advanced placement and dual-enrollment credits. Beyond her love for business, she has a passion for writing and reading poetry, animals and community service and involvement. Drummon is the 2021 National Poetry Ourselves Champion (a competition for original poetry) and the 2021 Montana Poetry Out Loud State Champion (a poetry recitation competition). She has been involved in rodeo and 4-H for 10 years, showing lambs, swine, steers and horses. She was also a DECA member and National Honor Society member.


Parker Friday is from Billings. She participated in student government, multiple sports and various choirs at Billings Senior High School. Parker was high school student body president, a member of Senior's Varsity Singers and two auditioned ensembles and a member of the National Honor Society. Friday values new opportunities to learn and grow and strives to challenge herself academically. Outside of school, she loves spending time with her parents and dog, watching movies and television series and paddleboarding on Montana's beautiful lakes.





Lydia Garrick of Missoula is graduating at the top of her class at Sentinel High School and is interested in becoming a pharmacist. Garrick was a Health Occupations Students of America officer, National Honor Society treasurer, Montana Youth Symphony first chair cellist and All-State Orchestra first chair. Garrick also worked in a UM microbiology lab and presented her own research at the Junior Science and Humanities Symposium and State Science Fair. She enjoys playing cello, hiking with friends and taekwondo. Her progression from white belt to third-degree black belt has taught her perseverance and the value of dedication and hard work.



Hannah Geiger from Kalispell is a 4.0 international baccalaureate student interested in studying business administration. Her childhood was spent outside exploring nature through camping, hiking and kayaking, among other activities. Her intrinsic curiosity led her to delve into literature and art. Geiger said she always had her nose in a book and probably owned every National Geographic "Weird-But-True" edition to exist, but was especially drawn to fantasy and history. She volunteered at the Conrad Mansion Museum for four years, giving tours, cleaning and helping with special events, as well as at the Kalico Art Center, where she taught a free class every week for anyone to experiment with different mediums. She participated in chamber orchestra, speech and debate, She-Ra mentoring theater and the Rotary Youth Leadership Awards.
Ruby Jennings of Great Falls grew up raising animals, including horses, cows, sheep and pigs in 4-H and the National FFA Organization. She plays both tennis and violin. In school, Jennings was involved in student government and leadership. She enjoys writing and outdoor recreation such as hiking, biking and skiing. Jennings hopes to study environmental sciences and have a career in environmental sustainability.
Faith Marshall of Missoula is interested in becoming a physician. At Sentinel High School, she was the student body president, varsity soccer captain and an active member in other Sentinel athletics and activities. Marshall is passionate about travel and looks forward to studying abroad during her college experience.
Scout McMahon of Kalispell is the self-described "confident, loud girl in history class." Her curiosity and academic interests have been shaped by her childhood in bush planes. McMahon likes exploring the limits of what she can accomplish mentally through speech and debate, mock trial and Model United Nations, as well as physically through biking, hiking, flying and swimming. As a nonprofit chair at age 17 (and representative of that nonprofit in a lawsuit against the secretary of state for voter rights), McMahon has devoted much of her free time to building her community. She believes in giving back and wants to empower her community the same way it empowered her. When not busy with other work, McMahon likes to knit, paint and grow plants.
Marley Miller from Kalispell is a Flathead High School graduate pursuing the full international baccalaureate diploma. He was involved with Health Occupations Students of America, DECA, student council, National Honor Society, He-Man book club (a club that reads to local second graders), track, swimming and cross-country. Miller was an executive mentor for Brave Mentoring (a mentoring program for freshmen). He also was the president of Health Occupations Students of America and DECA. He was elected governor at Boy's State and was chosen out of the Flathead Valley for an award called "Today's Achievers, Tomorrow's Leaders." He is also a DJ for school dances, weddings, and other events.



Brittney Wagner (Blackfeet name: Mountain Snow Woman) is from Browning and graduated at the top of her high school class. She and her family have been active with the Blackfeet Tribe and at UM. Wagner golfed at the state tournament three times and was involved in 4-H, the Niipoomakiis cultural society, Diversity Leadership Group and Girl Scouts as a robotics mentor. She is interested in exploring journalism, sports journalism, criminology, athletic training and sports medicine. Her culture is very important to her, and Wagner tries her hardest to represent her tribe, family and town in the best way possible.
NORTH CAROLINA

Edwin "Buddy" Wilson is from Eden, North Carolina, a rural southern town where he found his passion for the outdoors in Scouting and challenging himself through robotics and marching band. Wilson spent 10th grade living at West Point and attending a nearby high school, where he joined the ski team and became editor-in-chief of the newspaper. He has spent the past two years at the North Carolina School of Science and Math, a public residential school for juniors and seniors, where he has taken environmental science classes, conducted his own biological research and been a residential life assistant on his hall. Wilson intends to study wildlife biology at UM. He is passionate about the outdoors and is excited to continue his education to one day educate others and give back to the natural world.
NEW MEXICO

Katia Chavez of Albuquerque, New Mexico, is interested in environmental science and sustainability. She loves being outdoors and exploring the natural world. In high school, Chavez was fortunate to participate in various wildlife classes and is involved in a research project studying the diet of Mexican spotted owls. She loves to hike, camp, play piano, basketball, volleyball and spend time with family. Chavez looks forward to continuing to study wildlife and the environment and participating in research projects in college.
OHIO

Penelope Meredyk is a suburban Clevelander interested in studying archeology and resource conservation. She was the vice president of her school's environmental club by day and a competition dancer by night. When she's not performing lead roles on stage, tutoring underclassmen or chopping down invasive species at the closest national park, you can find her in the art room with sleeves rolled up and oil pastels in hand.


 



SOUTH CAROLINA

Claire McAtee from Clemson, South Carolina, is interested in studying wildlife biology. Through organizations such as 4-H and FFA, McAtee has had many opportunities to experience the natural resources field. She earned the College Board's AP Scholar with Distinction Award and completed a double industry certification in animal and veterinary science at the Pickens County Career and Technology Center. Through the PCCTC, McAtee was heavily involved in FFA, where she received state grand champion titles for both the horse evaluation and employment skills and competed at the national level in employment skills. She also was a reserve champion in the State Veterinary Science Invitational competition. McAtee was captain for varsity soccer and swimming. She is interested in protecting public land, ensuring access to conservation education and encouraging individuals to reconnect with the natural world.


TEXAS

Blixen Hofmann of Mason, Texas, is interested in studying wildlife biology. Growing up in a small Texas town and time spent at her grandparents' ranch helped to foster her love for the outdoors. As an award-winning twirler and twirling coach for younger students, Hofmann is excited about being the featured twirler for the Grizzly Marching Band. Academically, she is ranked near the top of her high school class. Extracurricular activities include membership in state championship current event and speech teams; volunteering many hours, including as a duchess in the Mason County Round-Up Queen's Court and Bluebonnet CASA.
WASHINGTON

Jacob Blockhan from Redmond, Washington, is graduating at the top of his class at Eastside Catholic High School and is interested in exploring majors related to research, data science and accounting at UM. Having recently lost his mom to cancer, he is dedicated to providing a strong, positive support system for his brother. Blockhan enjoys learning about and nurturing his Catholic faith. He worked at Fred Meyer and was captain of his Ultimate Frisbee team.
Keilana Mohsenian of Spokane, Washington, is graduating at the top of her class at Joel E. Ferris High School. She is interested in exploring pre-medical sciences at UM. Mohsenian was club soccer captain, co-president of her Health Occupations Students of America club and co-president of a woman's choral group. She worked as a respite care nanny for a child with cerebral palsy and is actively involved in her church. Mohsenian loves learning (especially science), volunteer work, soccer, track and singing.
Lauren Schulte of Spokane, Washington, is interested in studying psychology. She is passionate about the outdoors, and some of her favorite memories were spent camping with her family in a rooftop tent, spending days white water rafting, fly-fishing with her dad and Nordic skiing. Schulte was active in Spokane's dance community and worked at a local performing arts center. She also has been involved in climate action through her school's environmental club. Additionally, Schulte grows pumpkins and produce on her family's farm for local markets.


Ella Sherin of Olympia, Washington, is interested in majoring in Native American Studies. She enjoys spending time outdoors hiking with family and friends and dancing fancy shawl at powwows. Sherin founded the Olympia High School Native Students Union and programmed the first-ever Native Heritage Month Awareness Assembly. She also plays soccer and the baritone saxophone. Her cultural influences have shaped who she is and who she aspires to be. Sherin hopes to create a better world for those to come after her.
Contact: Tim Nichols, UM Davidson Honors College dean, 406-243-2534, timothy.nichols@umontana.edu; Kaetlyn Cordingley, DHC assistant dean, 406-243-2579, kaetlyn.cordingley@mso.umt.edu.