UM AWARDS PRESTIGIOUS PROVOST'S, DEAN'S SCHOLARSHIPS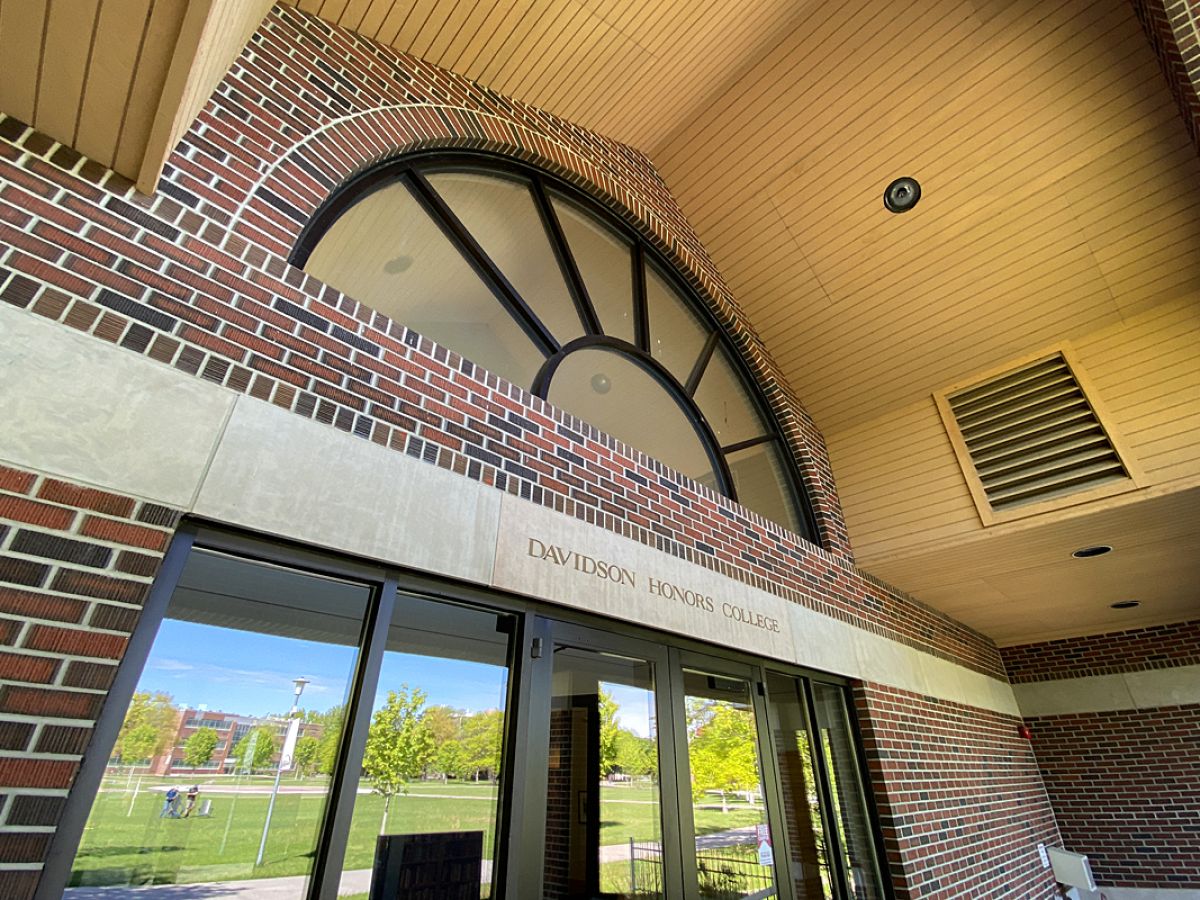 MISSOULA – A talented group of first-year students will arrive at the University of Montana this fall as the Davidson Honors College Provost's Honors Scholars and Dean's Leadership Scholars.
The scholarships are among the most prestigious awards for incoming students in UM's Davidson Honors College and significantly reduce the cost of attending UM.
Provost's Honors Scholars are awarded to students around the nation based on academic performance, public service, leadership, personal qualities and potential for future impact. Based on the same criteria, Dean's Leadership Scholars are recognized for academic excellence, demonstrated leadership and potential.
The students hail from Maryland to Arkansas to Alaska and will study a diversity of fields from wildlife biology to political science to art.
DHC Dean Tim Nichols said this year's incoming students are accomplished scholars, athletes, artists and leaders in their schools and communities.
"The exemplary academic records of this class are exceptional," Nichols said. "We are thrilled to welcome them to the Davidson Honors College, where they will be surrounded by other talented, motivated students for an elevated, enriched and enlivened UM education."
The class of 2022 Provost's Honors Scholars are:

ALASKA


Aveline Larroque is from Anchorage, Alaska. Larroque is a graduate of IDEA Homeschool and their goals are to earn a bachelor's degree in chemistry with a concentration in forensic chemistry and to work for the FBI as a special agent or analyst. Along with reading, Larroque's favorite activities include knitting, traveling and volunteering.


ARKANSAS


Elijah Caplan of Bentonville, Arkansas, is interested in studying environmental science and sustainability. Caplan is an avid outdoorsman and an Eagle Scout. He served as lodge chief for Westark Area Council's Order of the Arrow program (Scouting's national honor society). With his environmental science degree, Caplan hopes to assist in slowing human-induced climate change.


ARIZONA


Delia Schmidt of Litchfield, Arizona, is interested in studying the environment and sustainability at UM. She served as an officer in Canyon View High School's Interact, Key Club and National Honor Society, as well as the district secretary on Interact District 5495's statewide council. Schmidt helped start and build tradition at her school as part of its first graduating class and served in student government for three years. In her free time, she enjoys reading, attending concerts and spending time with her cats and dogs.


IDAHO


Julia Branen of Moscow, Idaho, is interested in studying psychology. Branen is a three-sport student-athlete and earned a spot at the state competition in both track and volleyball, as well as receiving the Outstanding Individual Scholastic Award. She was part of the National Honor Society and was selected for the College Board National Rural and Small Town Recognition Program. Branen said her two most memorable academic experiences are studying wildlife in Yellowstone National Park for a week during the summer with Ecology Project International and then traveling to China for two weeks to explore the culture and practice Chinese language skills.


ILLINOIS


Ethan Marshall from Aurora, Illinois, is interested in studying environmental science and sustainability. Marshall was a four-year varsity cross-country and track athlete, Illinois state scholar, outdoor enthusiast and music fan.


MONTANA


Averi Bertram of Bozeman is interested in environmental studies and graduated at the top of her high school class. Born and raised in Montana, Bertram has an appreciation for the outdoors and a passion for protecting the environment. She hopes to bring this passion to the DHC and major in Environmental Studies with a pre-law minor. Bertram aspires to be an environmental lawyer and hopes to move society toward a more sustainable future. In her free time, she enjoys hiking, golfing, hunting, fishing and baking. She was a member of the high school golf team and National Honor Society, and she also volunteers at THRIVE Bozeman and FACES Bozeman.
Liam Edwards is from Chinook. He loves politics and skiing and is enthusiastic about joining the Davidson Honors College. Edwards was student body president and enjoyed influencing positive change in his high school and community. Liam also was actively involved in speech and drama – specifically "Memorized Public Address," for which he placed first at the divisional tournament.
Madalie Kershner of Great Falls is interested in studying mathematics and art at UM. Kershner graduated at the top of her class and has been engaged in Leadership High School, National Honor Society, Rustler Buddy Program and Big Brothers/Big Sisters. She grew up going to home football games and learned to appreciate the campus. Becoming a part of the Griz family was a dream for years.
Rowan Lucas from Lolo is interested in exploring careers in law. Lucas was involved with the Sentinel Dance team and National Honor Society and was editor-in-chief of the Spartan Scoop.
Daniel Martin of Dillon graduated top of his class at Beaverhead County High School. Martin enjoys hiking, fishing, running and basically anything the outdoors has to offer. He is an active member of his cross-country team, Academic Olympics, FFA, National Honors Society and many other organizations in Dillon.
Logan Sites of Livingston is graduating at the top of his class at Park High School. Sites has been involved with band, Science and Academic Olympiad, Business Professionals of America, National Honor Society and 4-H. He played soccer and enjoys rock climbing and taekwondo.
Olivia Vesovich is from Livingston. She believes strongly in the power of education and her ability to make a difference in the world. Vesovich is interested in studying English at UM. She was part of the IB Diploma Program at Hellgate High School and has been actively involved in climate action and politics through Students Against Violating the Environment group and Forward Montana.
Jake Watkins is from Whitefish. He attended high school in California to train at an international tennis academy. Watkins will play tennis for the Griz and pursue a degree in biochemistry at UM. He enjoys fishing, mountain biking, wake boarding, surfing and hanging out with friends.


WASHINGTON


Chloe Saxton of Seattle is a student-athlete at Holy Names Academy. Saxton has maintained a 4.0+ GPA all four years of high school. She was the recipient of the Tomich Family Scholarship for the past three years at her school and is a member of the National Honor Society. Saxton also has a leadership role in her travel softball club, and lettered in softball at Holy Names Academy, where she was co-captain and MVP. She also engaged in leadership at her school, including helping run a religious retreat and serving as a peer mentor. Outside of sports and academics, Saxton likes cooking, music, art and spending time outdoors.
 
The class of 2022 Dean's Leadership Scholars are:

MARYLAND


Ryan Fleetwood was born and raised in Hagerstown, Maryland. He attended North Hagerstown High School, where he served as the president of the Key Club, vice president of the Model United Nations, treasurer of the Student Council and a member of the National Honor Society. Through his leadership experiences, Fleetwood found a passion for community service and enjoys volunteering with organizations like Children in Need. He loves to hike, fish and explore the outdoors. He is interested in studying environmental science and sustainability at UM.


MISSOURI


Madi Reese of Kansas City, Missouri, is a graduate of St. Teresa's Academy. She is interested in studying environmental science and sustainability at UM. In high school, Reese was co-president and co-founder of Stars for UNICEF, editor of the Windmoor Literary Magazine and a Math Hub mentor. She enjoys golfing, hanging out with friends, writing movie reviews and developing film. Her environmental passion includes climate change and sustainability, as well as gardening.


MONTANA


Claire Bernard is from Rapid City, South Dakota, and moved to Bozeman after graduating high school in 2021. Bernard is interested in studying journalism and Spanish and exploring a career in law. She enjoys playing the bass – both in orchestra class and with her punk band. Bernard is a passionate reader, writer and speaker. She enjoys running with the cross-country team, writing poetry and working with nonprofits.
Ryan Dolan of Billings is interested in exploring communicative sciences and disorders UM. Dolan is actively involved in service in the Billings community through Special Olympics and Reading Rocks. Her passions include volunteer work, reading, exercise and challenging herself, academically She is interested in a degree in healthcare because she enjoys helping people.
Emmi Xiao Bi Highness of Helena is interested in studying psychology at UM. She is passionate about reading and writing. Highness has been involved in local March for Our Lives events and the local Chinese New Year celebration, as well as volunteer work at the local science museum. In her free time, you can often find her playing guitar, singing and, of course, writing songs. In high school, Highness was actively involved in the mock trial team. When not cooped up inside, she loves lake days in the summer and skiing in the winter with family and friends.
Elliot Sanford of Bigfork is interested in studying geosciences. Sanford spent a summer working at the Montana State University Agricultural Research Station in Creston. He was engaged with the Bigfork High School Cave Club, where he developed GIS maps from monitoring and surveying Montana caves.
Noah Squires of Denton is graduating from Denton High School with a 4.0 GPA and was FFA chapter president. Squires is interested in exploring the field of pharmacy. He is a member of the Montana National Guard and is an emergency medical technician.
Taryn Thompson of Libby is interested in studying history education. Thompson was student body president at Libby High School. She enjoys being involved in her community, socializing, playing the baritone, drawing and listening to music.


SOUTH DAKOTA


Nevaeh Starr is from Pierre, South Dakota. She is passionate about writing and hopes to be a journalist. She enjoys weightlifting, swimming, reading and writing. Starr was engaged in STEM Savvy leadership and was a Gov2Gov freshmen mentor. A particular teacher encouraged her to work with her school's newspaper, The Governor, which has set her on a path to study journalism at UM.
Contact: Tim Nichols, UM Davidson Honors College dean, 406-243-2534, timothy.nichols@umontana.edu; Kaetlyn Cordingley, DHC assistant dean, 406-243-2579, kaetlyn.cordingley@mso.umt.edu.