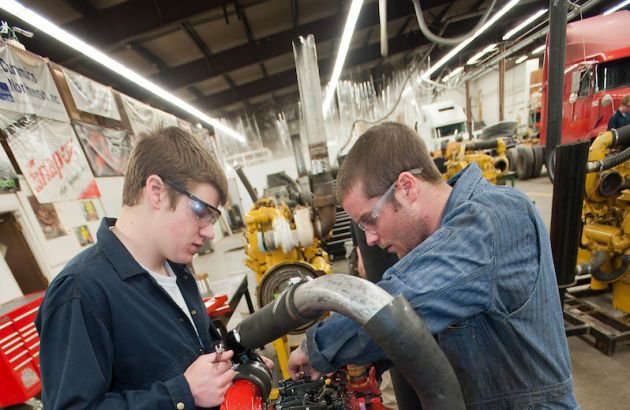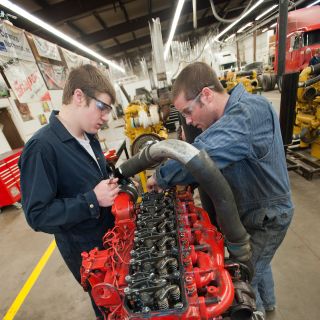 Diesel Tech Pathway
ASSOCIATE OF APPLIED SCIENCE (AAS)
The mission of the Diesel Equipment Technology Program is to provide the regional workforce with credentialed, skilled and competent diesel technicians and to be responsive to emerging workforce needs. 
Apply Today
Students in the Diesel Equipment Technology program train to be diesel mechanics that repair diesel-powered trucks and heavy equipment. Students study hydraulics, electrical systems, fuel systems, power trains, air conditioning, brakes and suspension, engine theory, and engine diagnosis, beginning with basic principles and proceeding to an advanced level of system technology. Along with these core courses, students take classes in welding, machining, computers, communications, and math.  Credit for independent study is available to those desiring additional instruction in diesel mechanics.  Students who complete the program successfully are awarded the Associate of Applied Science degree.
Due to high demand and limited space, students are accepted in the order in which their applications are received.  Prospective students are encouraged to apply early to secure a spot. 
For questions about application materials or regarding program requirements, please contact Jim Headlee, Diesel Equipment Technology Program Director by phone at (406) 243-7648 or by email at jim.headlee@mso.umt.edu.
West Campus Location
Industrial Technology program classes are taught across town at our West Campus* location:
2795 37th Ave, Missoula MT, 59804  
*Transportation is not provided. 
Diesel Equipment Technology Curriculum
The University of Montana catalog details degree specific credits and course requirements.
| | |
| --- | --- |
| Subject | Type |
| | Associate of Applied Science |
Contact Information
Jim Headlee - Program Director
Email: Jim.Headlee@mso.umt.edu
Phone: (406) 243-7648 
Lucy Ruediger - Program Coordinator
Email: lucy.ruediger@umontana.edu
Phone: (406) 243-7640