Online Beekeeping Program Recognized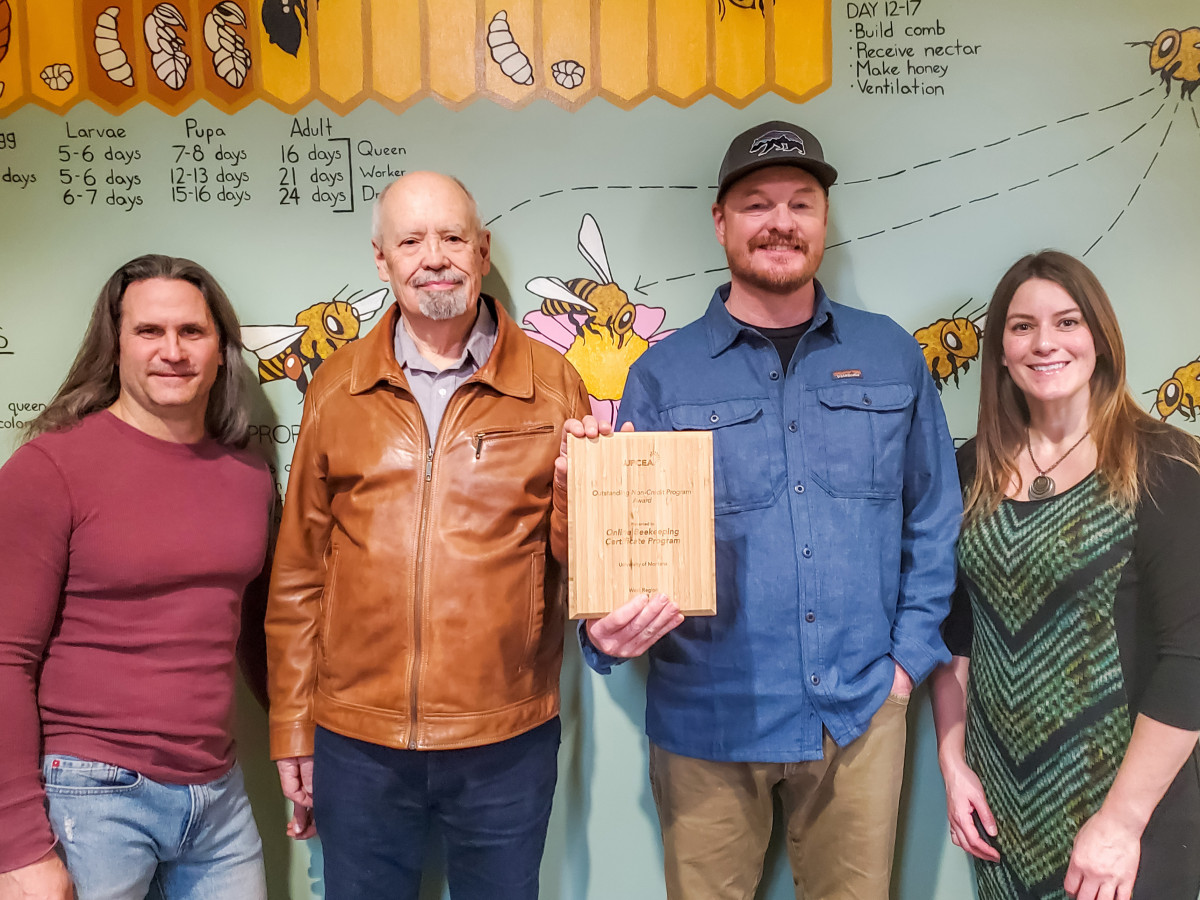 MISSOULA – By nature, beekeeping is a hands-on activity that requires frequent interaction between keepers and bees, but that's not stopping the University of Montana's Master Beekeeping Online Certificate program from achieving 'buzzing' coastal recognition. This fall, the Online Beekeeping Certificate Program received an award for the Outstanding Non-Credit Program at the SUPER 2019: UPCEA Central & West Regional Conference. UPCEA (University Professional and Continuing Education Association) is an American non-profit association for professional, continuing, and online higher education. UPCEA promotes and encourages excellence through its awards programs by recognizing outstanding continuing higher education leadership, programs, services and a variety of other resources. In order to be recognized by UPCEA the program had to meet award-based criteria and receive outstanding marks on its significant impact in the future of online education.
The online program educates beekeepers of all levels using science-based principles of beekeeping and the latest discoveries in honey bee health. It includes three levels of university coursework starting with Apprentice, to Journeyman and ending with Master. The program is currently offered for CEUs or optional academic credit for undergraduate students. Since its inception in 2012, the program has served over 1,000 individual students across the United States, Canada, and 17 other countries.
With the recent resurgence in beekeeping across the world University of Montana researchers Dr. Jerry Bromenshenk, Scott Debnam, and Phillip Welch desired to help train beekeepers on the best practices of keeping healthy hives. Prior to assisting with the program, the research team was leaders in honey bee research studying colony collapse disorder, mapping bee flights using LIDAR, and even training bees to find dead bodies and land mines! The beekeeping program began as a face-to-face endeavor offering the Apprentice course in Missoula in 2012. Upon realizing student proximity and scheduling limitations, UMOnline staff and three instructors banded together to cultivate three online courses packed with massive amounts of video, animations, and assessment tools throughout ensuring an optimized environment for students. All courses are captioned and fully accessible. Additional topics have been added to all three courses as research progresses.
For those looking to recall events from the conference, it is searchable on social media platforms using #UPCEASUPER2019.
If you are interested in learning more about the Online Beekeeping Certificate program, visit www.umt.edu/bee.
For more information about other online programs or certificates, please visit https://umonline.umt.edu/.
Contact: Holly Kulish, UMOnline Beekeeping Program Manager | 406-243-4168 | holly.kulish@umontana.edu
# # #
Breanna Niekamp, UMOnline Marketing Coordinator | 406-243-2502 | Breanna.niekamp@mso.umt.edu