Support Options Grow for Video Creation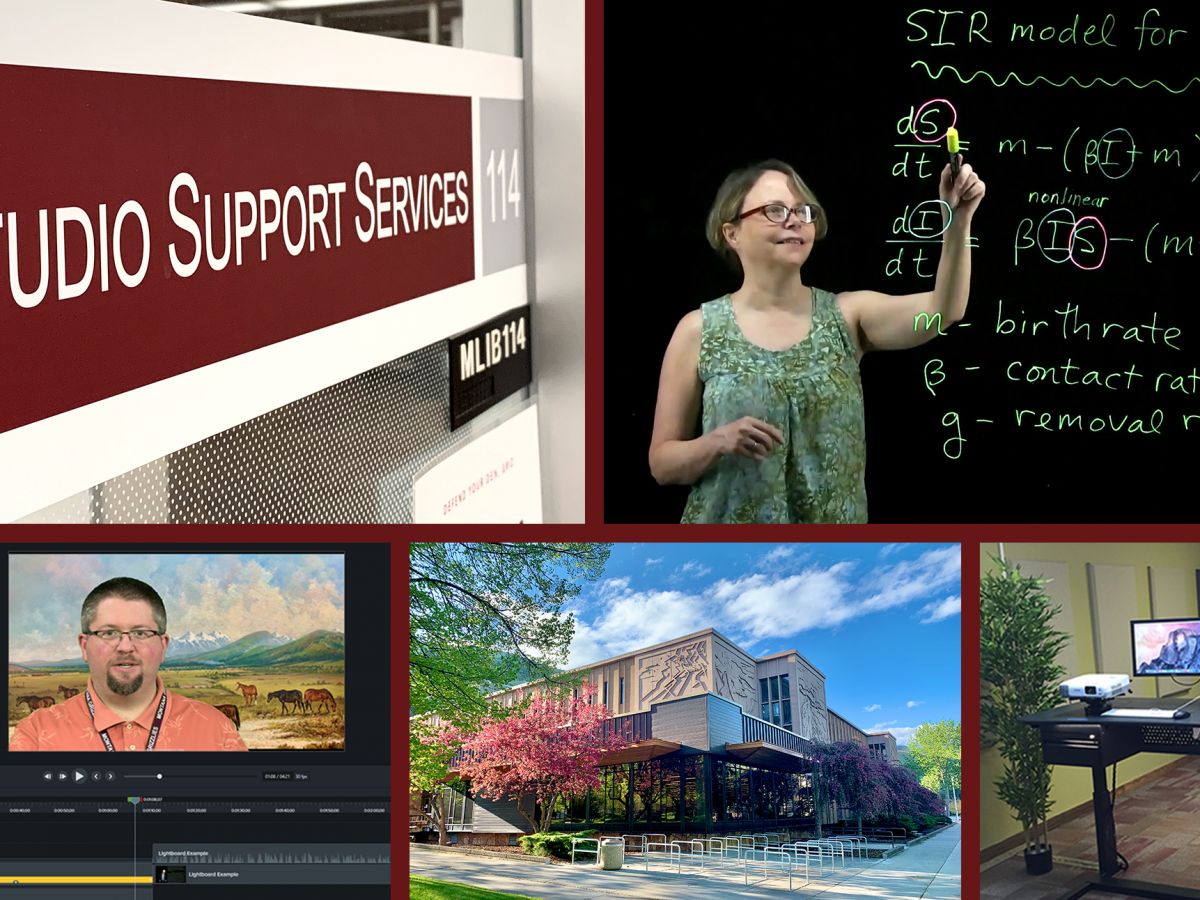 The COVID-19 Pandemic has affected all aspects of our lives, especially on campus at University of Montana. Though there have been struggles, we are continuing to conquer them by offering more opportunities for success in the coming semesters. In collaboration with various departments on campus, including the Mansfield Library, UMOnline is working together to provide you with solutions. Below we showcase various new opportunities for video creation on campus. 
Studio Spaces
The Mansfield Library offers intuitive studio spaces for the campus community. The studios have served as models for other departments and universities across the region and around the world. Studio spaces include the versatile One Button Studio and the specialized Lightboard Studio where you can write while facing your audience or overlay graphics as you film. Studio spaces are reserved in advance.
Access to Video Software
Access to editing software has also been greatly expanded with a site license for Camtasia. This easy to use video editing and screen capture program is available for installation on university-owned computers. Check with your IT department to see about getting Camtasia on your work computer.
The library provides access to editing machines with software such as Adobe Creative Cloud. Larger screens, powerful processors and ample workspace allow for convenient and comfortable editing sessions for those who need it.
Content Creation Assistance
The Mansfield Library is now offering expanded studio support services to complement existing services offered by UMOnline and other programs on campus. UMOnline provides expansive services for online courses such as; Instructional Design, Marketing and Data Support, Online Course and Program evaluations and more.
The library will provide UM employees with assistance with the important steps of creating a video including planning, use of library studios and lessons on editing. This service is provided at no cost. By working together, the library and UMOnline are focused on the success of the university.
The support team at the library is staffed by student employees with experience in content creation and editing. By fostering jobs that engage students from related fields, such as media arts and journalism, the library provides an opportunity for students to employ their skills, gain experience and have a positive impact on campus.
Getting Started and Safety Precautions
You can contact the library's studio support team at library.studiosupport@umontana.edu to arrange consultation and help. Consultations during the pandemic will be conducted remotely through Zoom or Teams. In-person studio help will be limited to one-on-one with social distancing and masks required. Remote tours via Zoom are available.
To reduce risks associated with the pandemic, library studio spaces have been equipped with medical-grade air purifiers that contain a MERV 15 pre-filter and a MERV 18 main filter. These units are effective at 99.8% at 0.1 microns and 99.99 % at 0.3 microns. The filter units are rated at a flow volume to purify the air in each studio about every seven minutes. Studios are equipped with hand sanitizer and have sanitizing wipes readily available for use.