Brain STEM
It's hard to imagine an area of study with wider interests, greater relevance or more opportunity than neuroscience. With its interdisciplinary courses and research experiences, our students study how the brain works and what changes occur in nervous system injury and disease.
80%
of our students gain hands-on research experience
3rd
most popular major for Pre-Med students nationwide
W.M. Keck
Foundation awardee for innovative curriculum
Neuroscience

Bachelor's

Master's

Doctorate/Specialist

Cellular and Molecular Neuroscience

Bachelor's

Cognitive Neuroscience

Bachelor's
Physician
Neuroscientist
Clinical / Biotech Lab Scientist
Health Care Provider
Computer / Data Scientist
Science Writer
Pharmacist
Business / Law Professional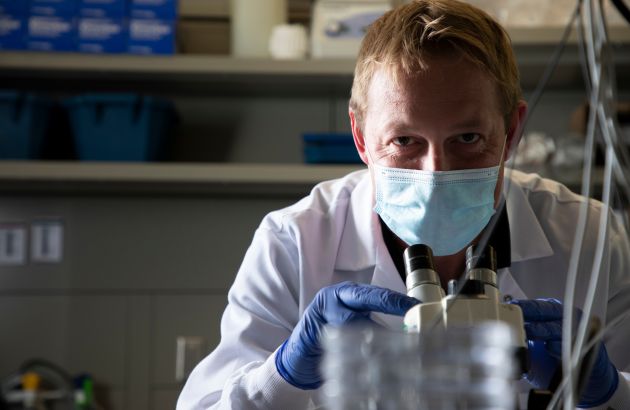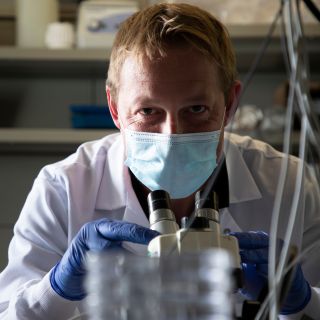 Childhood Epilepsies
Professor Kasper Hansen studies excitatory brain receptors, especially their molecular structure and pharmacology. Students join his lab group to investigate, first-hand, the pharmacology and molecular structure of these excitatory brain receptors, as well as their potential roles in brain injury and disease. 
Center for Structural & Functional Neuroscience (CSFN)

Established more than 20 years ago as an National Institutes of Health Center for Biomedical Research Excellence, the CSFN's mission is to support and sustain a vibrant and collaborative environment that fosters multidisciplinary research and training aimed at advancing our understanding of the brain and diseases of the nervous system.

Summer Undergraduate Research Fellowship (SURF) Program

For more than 10 years, the Neuroscience Program has provided paid internships that allow students to spend 10-12 weeks during the summer working in the laboratory group of a UM neuroscientist. In addition to laboratory experience, the program also includes a seminar series, to expand student's knowledge base in the neurosciences and enhance scientific communication skills.

Neural Injury Center (NIC)

At the University of Montana alone, there are between 550-700 student veterans at any given time, and over 350 student athletes, both groups at significantly increased risk for head injury. The NIC, located on the UM campus, provides screening and support to those with diagnosed or suspected brain injuries, conducts cutting-edge neural injury research, and provides education and outreach to communities in Montana.

Center for Biomolecular Structure & Dynamics (CBSD)

Supported by the National Institutes of General Medical Science, the CBSD is home to many of UM's neuroscientists who are studying brain proteins at the molecular and atomic level. Faculty, fellows and students in the center come from diverse fields and conduct serious and impactful research on the structure and function of molecules relevant to health and disease.