Graduate Profile - Maddie Hagan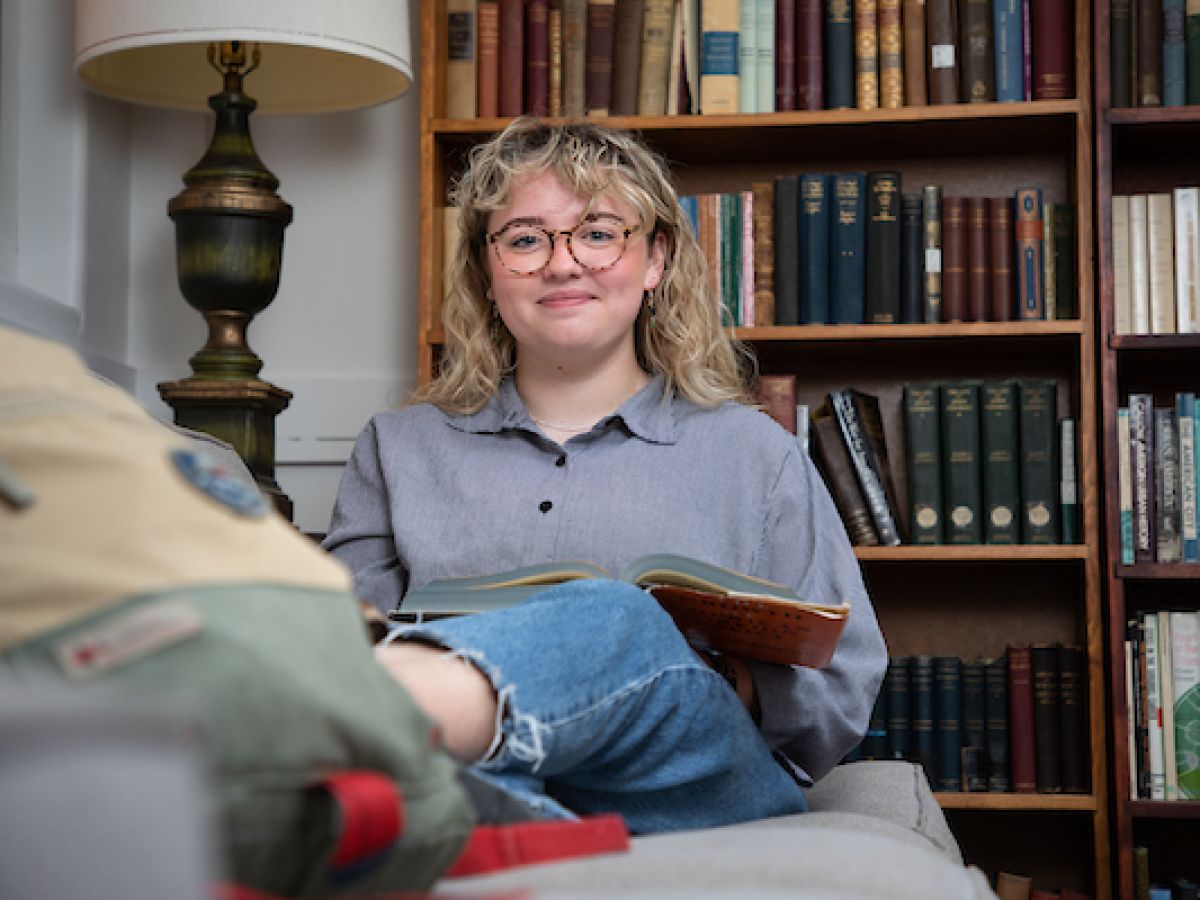 Two years before the COVID-19 pandemic, Maddie Hagan had to isolate in her dorm at the University of Montana. 
Hagan, a history and philosophy major with a minor in African American Studies, was diagnosed with an extremely rare autoimmune disorder in spring 2018 before her freshman year at UM. The Eosinophilic Fasciitis diagnosis meant she had to take high-dose steroids and a chemotherapy drug that wreaked havoc on her immune system. 
"It's a super weird and wacky experience to navigate social life and school while being sick," Hagan said. 
The treatments lasted two years. And just as Hagan was feeling better her junior year in 2020, the COVID-19 pandemic shut down the social life on campus. 
"Luckily, I really leaned into things I'm passionate about," Hagan said. "History and philosophy are two things I'm very passionate about. The community in both departments is so strong that I had people who helped me and who I could fall back on." 
Despite the challenges of her diagnosis and the pandemic, Hagan has excelled in her time at UM. She was part of a leadership team that brought back the UM History Society. The group, which Hagan has led as president for the past three years, hosted movie nights and "Coffee with Profs" meetings that connected students and faculty members. 
"She worked with her peers to turn a mostly defunct organization into a thriving space for intellectual exchange and community building," said Kyle Volk, professor and chair of the UM history department. "None of these things—which have proven critical to our department's culture—would have happened without Maddie's leadership."

In the summer of 2020, Hagan interned with the UM Department of History, housed in the College of Humanities and Sciences, to create a COVID-19 oral history project. She interviewed a single mother studying at UM, an environmental studies professor dealing with the illness of his partner and another student from Hagan's hometown of Portland, Oregon, who was passionate about the Black Lives Matter movement. The project has been archived in the Mansfield Library for future generations. 
The experience of interviewing the three subjects, especially on the topic of Black Lives Matter, strengthened Hagan's interest in justice and political activism.
Hagan has done research papers on abortion justice, felony disenfranchisement, gender roles in history, selective law enforcement and government actions. 
"The research I've done both in history and philosophy are always oriented around justice," Hagan said. 
Hagan constantly strives to apply her education to real-world issues, said Soazig Bihan, a philosophy professor at UM.
"She has been an excellent student and University citizen during her undergrad, despite the fact that she faced some serious personal issues," Bihan said. "She represents the best of what the humanities can bring to the world: genuine intellectual curiosity and bounteous civic engagement." 
This fall, Hagan will pursue a graduate degree in historic preservation at Columbia University in New York City. The two-year graduate program will combine practice and the ethics and theory of historic preservation. Hagan hopes her time at UM and graduate school at Columbia will open doors for careers around history in the public sector. She is interested in opportunities with the National Park Service, museums or local government historical preservation offices. 
Before she enters the next chapter of her life, Hagan still has a few weeks to finish her studies at UM. She is wrapping up her final history thesis on how early 20th-century Black politics related to prohibition. She presented the thesis recently at the Northwest Regional Phi Alpha Theta conference in Bellingham, Washington. 
"I do have a lot between now and graduation," Hagan said. "It's scary and stressful but I'm excited."