Stroke Survivors Receive Holistic Care From the School of Speech, Language, Hearing and Occupational Sciences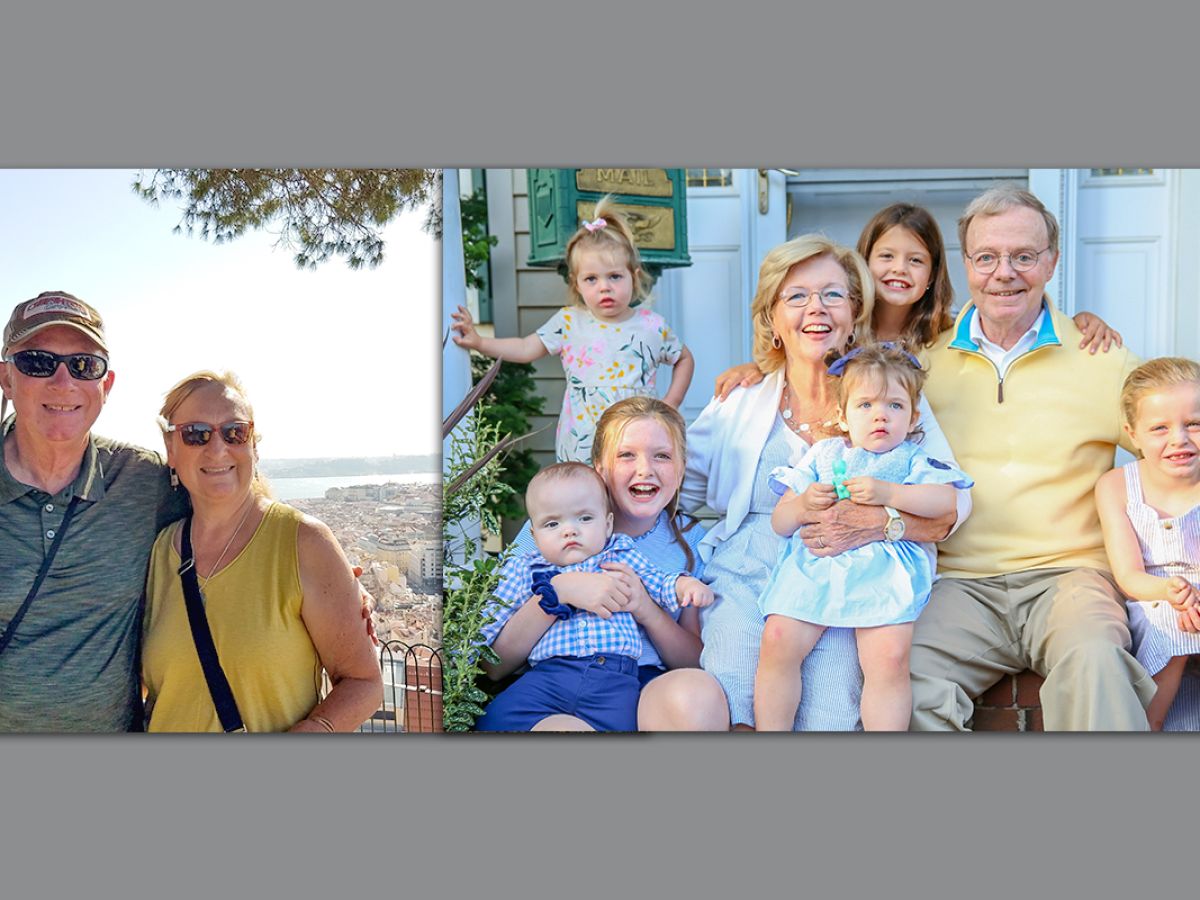 MISSOULA – Frank Quigley had just retired as a lawyer at 71 years old. Two weeks later, he underwent bypass surgery and then suffered a stroke that altered his communication.
His wife of 50 years, Mary, who teaches at New York University, heard about a speech-language program at the University of Montana and decided they should give it a try to help him regain his speech.
"It was extremely intensive," Mary said. "But the program was incredible."  
The Quigleys are one of eight families across the country who participated in the new Interprofessional Aphasia Group at UM, which provides support for stroke survivors and their caregivers. Funded through a novel Interprofessional Research Seed Grant at UM, counseling and speech-language pathology students use the group to offer families whole-person care. The main goal: help stroke patients regain communication and lost pieces of their life.
According to Aphasia Access, 2.5 to 4 million people in North America live with aphasia, which can impair any part of communication, such as language expression, reading, writing and comprehension. Those whose aphasia is due to a sudden stroke or injury face a particularly daunting road to recovery because insurance plans drop reimbursement for rehab once acute treatment is over, making it difficult for many to afford or access longer-term services.
"The science is telling us, however, that continuous rehab throughout the chronic phase will support continued learning," said Dr. Catherine Off, an associate professor in UM's School of Speech, Language, Hearing and Occupational Sciences.
Off decided to put the new seed grant to good use by developing affordable resources for stroke patients while teaching students how to collaborate across disciplines.
Part of the larger Big Sky Aphasia Program's Intensive Comprehensive Aphasia Program (BSAP ICAP), which Off runs, UM's Interprofessional Aphasia Community Group brings together students from the speech-language department and the UM Department of Counseling.
"Learning to work interprofessionally isn't necessarily something that can be taught in a classroom," said Dr. Kirsten Murray, UM Department of Counseling chair. "These are things learned by doing. That's why opportunities like this interprofessional collaboration can be so pivotal for students."
Over three weeks, the Interprofessional Aphasia Community Group offered care to families from across Montana and the nation, providing 90-minute weekly group sessions and five to six hours daily BSAP ICAP sessions.
Molly Murphy, a UM second-year doctoral student in mental health, and Harley Kincheloe, a UM second-year speech-language pathology master's student, designed and facilitated the group. While Kincheloe focused on increasing communication success for the patients, Murphy focused on supporting the mental well-being of both patients and their families.
People with aphasia experience a 30 % increase in depression as their social groups diminish and communication decreases – especially in rural regions with less resources.
"It's really hard to go out when you can't speak anymore, or when you do speak, it doesn't sound understandable or coherent," Murphy said.
As well as helping patients with wellness practices, building community among stroke survivors is key – especially in processing losses in everyday life.
"Just ordering a cup of coffee or saying hello to a friend … all these minute acts of communication make up our identity," Kincheloe said. "To have something like aphasia take that away from you causes so many complex levels of change that we can't fully understand or treat as individual health care providers. Collaborative care is vital for providing holistic treatment and improving patients' quality of life."
Moving the group to telehealth because of COVID-19 further complicated building community and creating organic conversations. The students focused on providing intimacy in breakout rooms on Zoom, integrating individuals into the larger group and especially allowing everyone to hear shared experiences.
Ann Nash '11, from Washington, learned about the aphasia group through a friend in UM's speech-language department. Her husband, Rick, had suffered a stroke that ultimately forced him to quit dentistry.
She said the schedule was perfect for Rick to rest in the middle of the day, although she needed to be near the computer at all times for assistance. Seeing someone speaking close up on Zoom helped Rick with his comprehension, and having a group of peers added a sense of community.
"There's an emotional support component not there with a one-on-one," Ann said. "There's always a feeling of isolation with aphasia."
Mary Quigley said seeing where everyone else was at in the group was both "upsetting and encouraging."
After the first few approaches failed in helping Frank communicate, the clinicians found one that worked and incorporated his interest in history into the sessions. The UM students also made the Zoom sessions fun by adding remote trips to a museum, fly-fishing and even hosting a 1960s name-that-tune event to help their clients speak. 
"There's a many-pronged approach to getting someone to talk," Mary said. "They didn't give up."
After the group, Frank showed a 25% improvement rate in his communication.
Murphy, who is working on a paper with Kincheloe about the Interprofessional Aphasia Community Group, said as a counseling clinician, she tried to remain open to learning, believing there are no hopeless cases and each patient's journey is unique.
"You get to show up and walk along with people in their process," she said.
Today, Frank continues his habit of reading three newspapers every morning in his Long Island home, and the Quigleys look forward to spending more time with grandchildren post-pandemic. In Washington, the Nashes enjoy their Meals on Wheels delivery route every Thursday, and Rick intends to go skiing soon with his daughter.
Both families credit the UM Interprofessional Aphasia Community Group with providing confidence, community and hope for post-stroke recovery.
Contact: Catherine Off; UM School of Speech, Language, Hearing and Occupational Sciences, associate professor; 406-243-2104; catherine.off@umontana.edu.
By Courtney Brockman, UM News Service