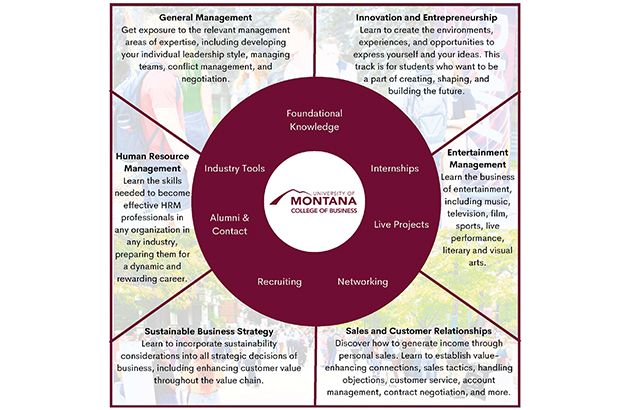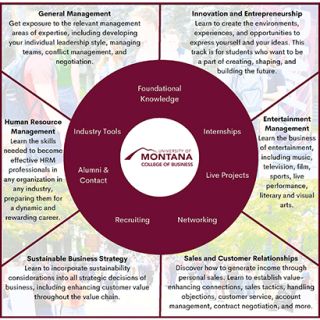 Choose Your Path in Business Management
Business Management majors will learn and apply key skills including effective communication, motivating employees, leadership, and managing conflict. Learn how to realize your potential and thrive as a future business leader.
Undergraduate Business Management students develop key skills in communication, collaboration, leadership, relationship-building, creative problem solving, critical thinking, and motivating employees by regularly practicing them in classroom exercises, team projects, and other experiential learning opportunities.
Business Management students have the opportunity to select from one of five distinctive tracks. Each offers a specialized educational experience that will prepare students for future careers.
Recommended Tracks and Courses for Business Management Majors
If you select the General Management track, you will get exposure to the relevant management areas of expertise, including human resource management, entrepreneurship, sustainable business strategy, and supply chain/logistics. Armed with this knowledge, you can decide to pursue many different careers, including:
  Human resource management
  Project management
  Entrepreneurship
  Sustainability specialist
  Organizational development
  Organizational leadership
Required Courses (choose four from below) 

BMGT 329
Human Resource Management
BMGT 410
Sustainable Business Practices
BMGT 467
Global Ops and Supply Chain
BMKT 491
Logistics
BMGT 480
Cross-Cultural Management
BMGT 498
Internship
Students who choose the Entertainment Management track will learn the business of entertainment, including music, television, film, sports, live performance, literary and visual arts.
You will learn from top professionals in the industry, both alumni and additional industry leaders, in a relaxed classroom environment.
This one-of-a-kind program offers an incredible opportunity for students looking to break into the entertainment industry.
Things you can do with the Entertainment Management track:
Personal management for artists
Show marketing, promotion, and production
Budgeting events
Budgeting for film and television
Acquiring funding for live events
Agency and artist relations
Venue management
Learn more here: Entertainment Management
Required Courses

BMGT 401
Event Management
BMGT 402
Entertainment Principles I
BMGT 403
Entertainment Principles II
BMGT 498 or BMGT 275
Internship or Venue Mgmt
Recent events have taught us about the importance of fostering organizations that embrace diversity and support their employees' needs for work-life balance and mental and physical well-being.
In addition, younger generations of employees are entering the workplace with strong demands for meaningful work and opportunities for personal growth and development.
Students who choose the Human Resource Management track will learn the skills needed to become effective HRM professionals in any organization in any industry, preparing them for a dynamic and rewarding career.
Things you can do with the Human Resource Management track:
  Human Resource Generalist/Manager/Director
  Company Recruiter/Campus outreach
  Compensation and Benefits Analyst/Manager
  Training and Development Coordinator/Director
  Organizational Change Leadership
  Organizational Development
Required Courses

BMGT 329
Human Resource Management
BMGT 480
Cross-Cultural Management
 
Elective
 
Elective
---
Suggested Elective List

 
Diversity, Equity & Inclusion Sequence
BMGT 480
Cross-Cultural Mgmt.
COMX 343
Persuasive Speaking
COMX 423
Organizational Communication & Training
PSYX 360
Social Physchology
"The best way to predict the future is to create it."
  - Alan Kay, Computer scientist
Humans are creative. 
We create solutions reactively when circumstance require that we adapt.
We create proactively to solve global problems, local problems, business problems, personal problems
Innovation and creation are the key to solving any and all problems.
This is a track where we create the environments, experiences, and opportunities to hone your problem-solving skills, to nourish your creative spirit, to challenge your innovative mind, cultivate your ability to express yourself and your ideas, and encourage you to be the leaders of tomorrow.
The jobs and businesses that exist now, and the technology that exists now, will all change dramatically in the next five, ten, fifty years.  The Innovation and Entrepreneurship track is for students who want to be a part of creating, shaping, and building the future.
Learn more here: (link to entrepreneurship page – make it look more like the entertainment mgmt. page; include info about Accelerate Montana, Blackstone Launchpad, Pursue Your Passion, internship opportunities).
Required Courses

BMGT 458
Advanced Entrepreneurship
 
Elective
 
Elective
BMGT 498
Internship
---
Suggested Elective List

BFIN 301
Analysis of Financial Statements
BMIS 372
Information Infrastructures
BMIS 373
Business System Analysis & Design
BMIS 478
E Commerce: A Managerial Perspective
BMKT 342
Marketing Research
BMKT 343
Integrated Marketing Communications
BMKT 420
Integrated Online Marketing
BMKT 460
Marketing Hi-Tech Products & Innovation
Forward-thinking, adaptable business strategy requires an understanding of sustainability theory and practice. Without this lens, businesses and their leaders are already behind the curve. Sustainability concerns affect risk management and costs of doing business. They can also offer opportunities for innovation, enhanced product differentiation, value for customers, and employee recruitment and retention.
Students who choose the Sustainable Business Strategy track will learn to incorporate sustainability considerations into all strategic decisions of business, including enhancing customer value throughout the value chain.
You will gain knowledge in business strategy fundamentals, as well as a broader-based "systems perspective" highlighting the inter-relationships between and among a company's eco-system of partners and stakeholders.
Things you can do with the Sustainable Business Strategy track:
Sustainability Specialist, Sustainability Analyst, or Chief Sustainability Officer in the private sector
Sustainability Management roles in the public sector (federal, state government or higher education)
Sustainability consulting
Supply chain assessment and logistics
Oversight of compliance and reporting, driving high standards of data quality and transparency
Bring additional value to ANY job through your holistic understanding of risk, identification of new markets, and analytical skills
Required Courses

BMGT 410
Sustainable Business Practices
BGEN 445
Sustainability Reporting
 
Elective
 
Elective
---
Suggested Elective List

BMGT 493
International Experience
ECNS 445
International Environmental Economics and Climate Change
NRSM 449
Climate Change Ethics and Policy
GEO 482
Global Change
CCS 407
Global Cycles and Climate
NRSM 475
Environment and Development
ENST 367
Environmental Politics and Policies
ENST 487
Globalization, Justice, and the Environment