Visit UM | Experience Our Campus
Schedule Your Visit and Preview Campus with our New Virtual Tour
University of Montana and Missoula College are excited to host all future Grizzlies, your family or your group for an in-person or virtual visit!  Not sure which visit makes the most sense for you? Scroll down for more information about our visit options!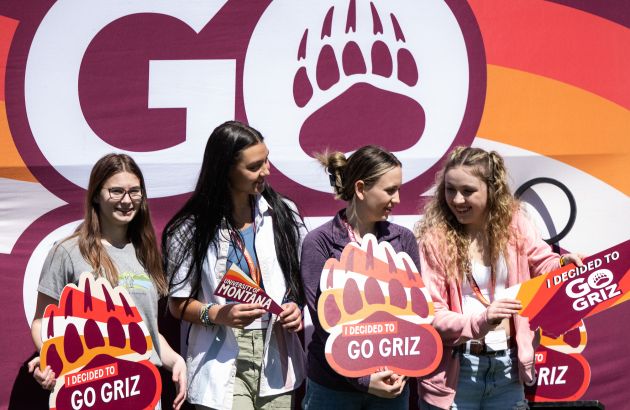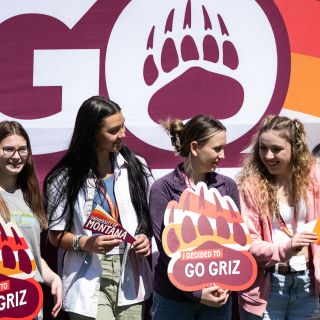 University of Montana On-Campus Visits
The best way to experience Montana is to see it. Feel the majesty of the mountains and get your breath taken away by the river running through campus (yes, literally). Discover the University of Montana firsthand on your campus visit. Begin with a welcoming session hosted by our admissions counselors, followed by a student-led campus tour and conclude your visit with a personalized Q&A session with an admissions counselor.
Get an authentic feel for what it means to be a Grizzly by joining us on campus!
Reminders for In-Person visits:
Wear comfortable walking shoes and appropriate outerwear for your ninety-minute walking tour of campus.
Check the weather forecast and plan for western Montana's ever-changing weather.
Be sure to print off your guest parking pass provided in your confirmation email and place it on the dashboard of your vehicle when you arrive. Contact beagriz@umontana.edu with any questions.
Water, snacks and coffee are all provided free of charge to our guests visiting campus.
Ask questions during the tour — we love to answer them!
Schedule an On-Campus Visit of UM
Monday – Friday at 9:30 a.m. or 12:30 p.m. (Mountain Time)
Our tours and information sessions allow you to build your schedule based on your interests. A variety of options are available so you can tailor your visit for an impactful experience.
Welcome Session: This is an informative introduction to the University of Montana with essential details about our campus, programs, and the day's schedule.
Campus Tour: Come see our beautiful campus and stroll along with our knowledgeable and passionate student tour guides. Hear their firsthand stories and experiences from academics, to student life, clubs, sports and everything in between. Some tour stops include the Oval, Turner Residence Hall, University Center, Washington-Grizzly Stadium and the Campus Recreation Center.
Admissions Q&A: Following the student-led tour, engage in an informative Q&A session with our admissions counselors at the Admissions Gilkey Building. This is your opportunity to ask any questions you have about the University of Montana. We'll make sure you have all the information you need to make an informed decision about your journey.
College Open Houses: Discover your academic path at the University of Montana's College Open Houses (as available). By entering your academic interests in the registration form, you can customize your visit to explore specific programs, engage with faculty and gain valuable insights about your future studies.
Housing: A stop at our showroom at Turner Residence Hall is part of every campus tour. Student tour guides will share the various housing choices available, providing a comprehensive understanding of the vibrant and comfortable living environments at the University of Montana.
Walk-In Visits 
If you are unable to schedule a campus visit on a chosen day, please call ahead (406-243-6266) before arriving. We have limited capacity on tours and presentations, and we want to ensure we can serve your needs and answer any of your questions.
Extended Visit Day 
Join us on either Saturday, Oct. 21, or Saturday, Nov. 4, for a day packed with activities designed to help you picture yourself as a Grizzly. We'll kick things off with an Admissions Presentation to give you the inside scoop on UM academics, followed by an exciting opportunity to discover some of the amazing UM community members and resources. You'll also recharge with a brunch at the Food Zoo and explore our beautiful campus with a tour guided by some of the friendliest faces around. 
Experience the Davidson Honors College
If you are interested in learning more about the Davidson Honors College, or "DHC" as Grizzlies call it, please register for a campus visit. Under "Your Visit Itinerary" select "Davidson Honors College."
Honors Visit Day
Visit the gorgeous UM campus on a day especially designed for students interested in learning more about our renowned Davidson Honors College – a dynamic community of some of the best and brightest on campus. You'll learn more about honors at UM, meet with faculty, staff, and students, and even attend a mock class of our foundational first-year course, Ways of Knowing. An optional afternoon hike with the dean and his dog along the banks of the Clark Fork River promises to be a highlight!
Stay tuned for the upcoming 2023-24 DHC Honors Visit Day Registration.
Celebrate Your Admission to UM
You and your family are invited to celebrate your admission to the University of Montana at a special event called Go Griz Day. These events are held in May for incoming students who will arrive in the fall. Learn more about Go Griz Day.
Interested in bringing a class, school group, or student group to visit our main or Missoula College campuses? Group visits to the University of Montana consist of an admissions presentation and a student-led campus tour, providing an informative and enjoyable experience for your group. Please contact Jackson Thiebes at Jackson.thiebes@mso.umt.edu if you have any questions or need any possible accommodations.
Please note, the Undergraduate Admissions office will be closed in observance of the following holidays:
Undergraduate Admissions Office Holiday Closures
 

| | |
| --- | --- |
| 2023 - DATE OBSERVED | HOLIDAY |
| Nov. 10, 2023 | Veterans Day (observed) |
| Nov. 23, 2023 | Thanksgiving Day |
| Nov. 24, 2023 | Thanksgiving Holiday |
| Dec. 25, 2023 | Christmas Day |
Video: University of Montana aerial campus tour
CHAT WITH US!
Have a quick question? Unsure of what visit option will work best for you and your family? Please feel free to visit with us via our Chat found in the bottom right corner of your screen.
Admissions and New Student Events