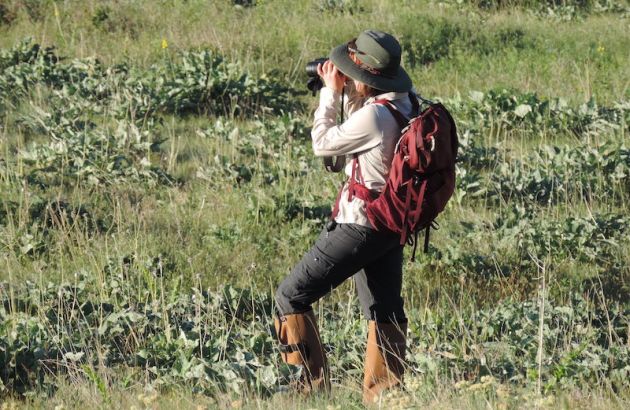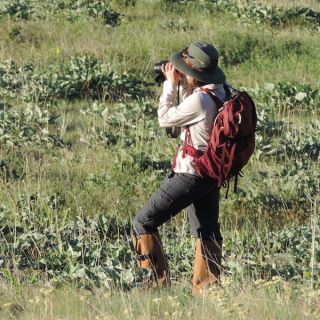 B.S. Wildlife Biology
Terrestrial Option
The terrestrial concentration of the wildlife biology bachelor's degree focuses on birds and mammals and the habitats in which they live (we also offer a concentration in aquatic wildlife biology). You'll learn from faculty who are known internationally in their fields of study. You'll also benefit from one-on-one mentorship and personal instruction, in a program that's not too big, and not too small. When you graduate, you'll be ready to lead in important careers that involve the study, management and conservation of wildlife.
Grade Point Requirement:
Students must earn at least a 2.5 cumulative grade point average in all courses taken at the University of Montana to graduate with a B.S. in Wildlife Biology.

Occasionally due to a mix of extenuating circumstances and career interests, students can petition to substitute a different class for a required class. Courses substitutions should be similar in level (e.g., 300-level) and credit load. If you would like to petition for a course substitution, you need to fill out a course substitution form, discuss the change with your faculty mentor for approval, and submit it to the undergraduate student advisor for review by the Wildlife Biology Program Undergraduate Committee.


Honors Emphasis
The Honor's Option provides students with basics of biological sciences in the first two years and allows students to develop their own curriculum during their junior and senior years to better meet their desired needs. In addition, Honor's Option students can work one-on-one with a faculty member to complete a senior thesis project. The Honor's Option requires 30 credits at UM and a 3.5 GPA.
The honors curriculum is designed particularly for students with strong academic records who intend to do graduate work. Entrance into this emphasis is open only to students who, at the beginning of the junior year of the wildlife biology program, have a grade point average of 3.5 or above and who petition the faculty for entrance. Honors students must complete either WILD 370, 470 and 494 (terrestrial option) or BIOO 340, BIOE 428 and WILD 494 (aquatic option).
Honors students are encouraged to enroll also in WILD 499 Senior Thesis. The balance of the coursework for the junior and senior years will be developed in consultation with the honors student's faculty advisor and committee appointed by the director of the wildlife biology program.
All students in the honors emphasis are required to meet with their faculty advisors prior to autumn semester registration of their junior and senior years to work out their course schedule.
Apply for WBIO Honors Program | Course Revision Appplication
High Honors
UM confers High Honors to select graduating seniors. To get High Honors, Wildlife Biology students must have a 3.7 GPA and complete either a senior thesis or an honors oral exam. Download a copy of requirements for this high honors option.
Advising
Schedule an appointment with your academic advisor through Navigate.  Watch the helpful video where you can see how the system works.  Then, click on the Navigate for Students button at the bottom of the page.  If the office hours listed won't work for you, please email your advisor directly to see what other days/time might work.
WBIO (last names A-R):  Chenoa Harrington chenoa.harrington@umontana.edu
WBIO (last names S-Z):  Shonna Trowbridge  shonna.trowbridge@umontana.edu
We can help you change a major, add or delete a minor, contact your faculty advisor, find scholarship information, and use Cyberbear to plan your class schedule and register. 
Experiential learning in the wildlife biology degree
Numerous field experiences, internships and undergraduate research opportunities await you as a wildlife biology major at UM. Right now, our students are working on exciting projects that involve everything from amphibians and reptiles, to raptors to grizzly bears and wolves. 
Field courses and internships for wildlife biology majors
Explore 25,000 acres of land managed for student and faculty research and learning, including Lubrecht Experimental Forest. Take summer field courses and internships at UM's Flathead Lake Biological Station. Engage in hands-on learning and research with ranches and private lands across western Montana.
Our degree in wildlife biology emphasizes field-based learning, and all students are required to complete an internship and at least two credits of hands-on experience. Your faculty mentor will work with you to find opportunities that are a good match. Find more resources to help with internships and jobs.  
 Study wildlife biology abroad
We offer a variety of field-based study abroad classes that focus on environmental and conservation issues. Majors in wildlife biology at the University of Montana also qualify for Franke Sustainability Fellowships, which fund international research and education focused on sustainability. Learn more about study abroad opportunities at UM.
Undergraduate research in the wildlife biology degree
UM's research connects with dozens of wildlife species in Montana and around the world, and our wildlife biology faculty and students have published more than 450 peer-reviewed scientific publications in just the past three years. Opportunities for undergraduate research include both paid and volunteer positions that often involve working with wildlife conservation agencies and NGOs. Explore undergraduate research opportunities at UM.
Wildlife biology facilities and labs
Our wildlife biology program offers access to specialized conservation genetics labs, including the National Genomics Center for Fish and Wildlife Conservation located on the UM campus. Our students frequently use remote field cameras, GPS and satellite collars, and radio telemetry equipment, as well as computing systems that enable advanced spatial and statistical analyses.
What can you do with a wildlife biology degree?
As one of the best schools for wildlife biology in North America, we offer unique opportunities that prepare our graduates for career success. Almost all of our alumni find jobs in their field of study, and many have gone on to leadership roles that directly impact science, conservation and policy nationally and globally.
Wildlife biology jobs
Our bachelor's degree program prepares you for graduate school or for wildlife biology jobs such as:
Wildlife and/or fisheries biologist
Wildlife conservation officer/game warden
Wildlife/terrestrial program manager
Wildlife researcher
Wildlife and/or fisheries technician
With time and experience, many of our wildlife biology bachelor's degree graduates advance into leadership roles, such as overseeing large-scale species conservation efforts, or directing the conservation efforts of governmental agencies or NGOs.
Wildlife biology salary
Zoologists and wildlife biologists earn an average of $63,270 per year nationally, according to recent data from the U.S. Bureau of Labor Statistics. The average annual income for this occupation in Montana is $66,870.