The Faculty Senate is at the center of faculty participation in the shared governance of the University. The Senate reviews, debates, and votes on issues pertaining to the academic welfare of The University of Montana in consultation and cooperation with the President and his/her administration.
Faculty are members of the University and have a vested interest in areas of academic excellence, as well as the general welfare of the institution. Committee service provides an opportunity to strengthen collegiality and shared purpose with fellow colleagues. Consultation with the expertise of the professorate assures the success of the University. Active faculty participation is needed for governing and ad-hoc committees to assure our joint success.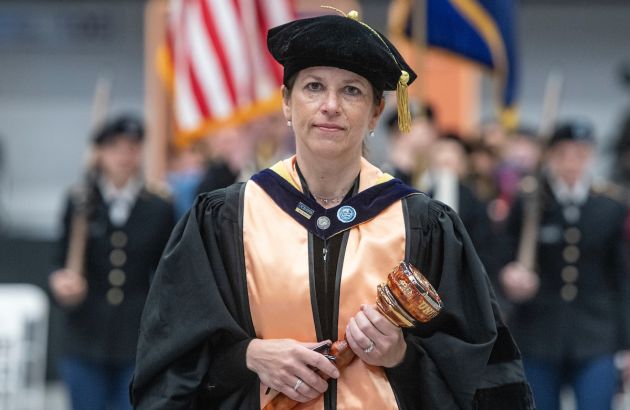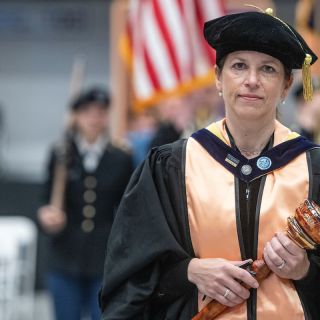 Graduation Procession
Chair Kimber McKay leads the 2022 graduation procession
The Faculty Senate Chair has the honor of carrying the mace at graduation. Other official responsibilities include representing UM faculty at the Board of Regents, Montana University System Faculty Association (MUSFAR), Budget Committee, President's Cabinet, and the University Planning Committee, as well as meetings with the administration.

Please contact the Faculty Senate Chair with any concerns that should be brought to the attention of the Faculty Senate. 


Jenn Bell, Faculty Senate Chair
11
Voting Groups
Representative of UM's Colleges, with the largest college (H&S) subdivided according to Humanities, Sciences and Social Sciences
52
Senators 
One senator is elected for each 10 total full-time-equivalency (FTE) faculty in the voting group
1961
The Faculty Senate was established at the University of Montana by a vote of the faculty on May 24th and approved by President Newburn and the Budget and Policy Committee.