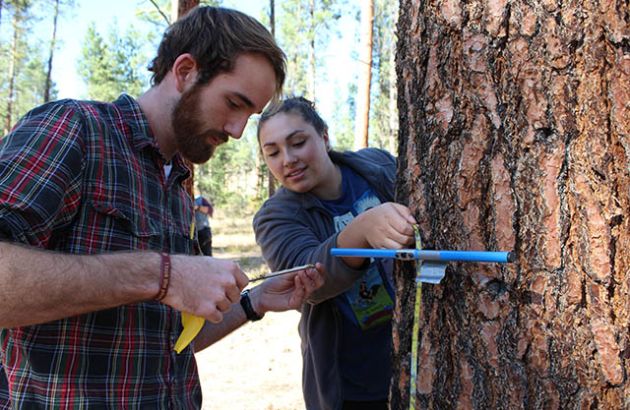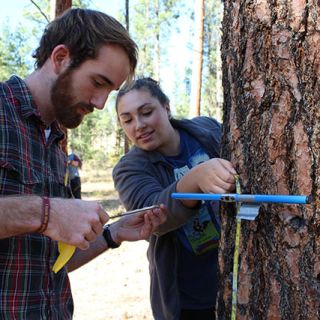 B.S. FORESTRY
The Forestry degree is a professional program of study accredited by the Society of American Foresters.  Accreditation assures students and employers that graduates with a BS in Forestry from UM have the education and technical training necessary to qualify as a professional forester.  At UM, we practice and teach conservation forestry, which is the active management of forested land for a wide range of social and ecological goals.
DEGREE REQUIREMENTS
To earn a B.S. in Forestry at the W.A. Franke College of Forestry and Conservation, you must complete general degree requirements and fulfill 400 hours of approved work experience. We will help connect you with employers that will allow you to meet this 400-hour work requirement and will add depth to your academic experiences. Explore job opportunities.
A total of 120 credits are required to graduate from the University of Montana. Of these, 39 credits must be upper-division (300-level or higher). A total of 36 traditional letter-graded semester credits are required in the W.A. Franke College of Forestry and Conservation, of which a minimum of 20 credits must be taken while enrolled in an approved major within the college. 
The Forestry curriculum is organized as a core set of courses that includes foundational math and science courses (biology, chemistry, trigonometry, public speaking, economics), foundational natural resource courses (field skills, biometrics, mensuration, dendrology, soils, and geographic information systems), forestry knowledge areas core to the practice of forest land management (forest economics, forest ecology, silviculture, forest products manufacturing, harvesting and roads, watershed hydrology, natural resource policy), and a capstone experience that pulls together all of these topic areas into a single planning exercise within a service learning project. 
In addition to the core Forestry courses, all Forestry students are required to select from a suite of professional electives. These are detailed in the 4-year plan and allow you to customize your degree based on your intended career path and interests. 
Accreditation
While Montana does not require a license or certification to practice forestry, many states do.  Where a license is required, foresters need a degree from an SAF-accredited program (or sufficient coursework equivalent to a BS in Forestry), to pass one or more exams administered by the state, and work experience overseen by a licensed forester (note that specific requirement vary by state).  UM's BS Forestry degree qualifies graduates to enter this licensure pathway.
 In addition to state-specific licenses to practice forestry, the Society of American Foresters administers a Certified Forester (CF) credential.  This CF credential is particularly useful for foresters working directly with the public, such as consulting foresters, extension agents, and foresters working for the forest industry.  Foresters need a degree from an SAF-accredited Forestry program (or sufficient coursework equivalent to a BS in Forestry), work experience, and continuing education to be eligible to sit for the CF exam.
ADVISING
Schedule an appointment with your academic advisor through Navigate.  Watch the helpful video where you can see how the system works.  Then, click on the Navigate for Students button at the bottom of the page.  If the office hours listed won't work for you, please email your advisor directly to see what other days/time might work.
Nola Moudry: nola.moudry@umontana.edu
We can help you change a major, add or delete a minor, contact your faculty advisor, find scholarship information, and use Cyberbear to plan your class schedule and register. 
EXPERIENTIAL LEARNING
Forestry students have many opportunities to learn, work, and play outdoors. 
Field Courses
In an applied field such as Forestry, students learn best by doing.  Over half of the required FCFC courses within the Forestry major include field labs.  For many of these 3-credit classes, this looks like two 50-minute lectures and one three- to four-hour lab each week. We make extensive use of our university properties Lubrecht Experimental Forest and Bandy Experimental Ranch as well as lands managed by our state, federal, private, and NGO partners for field labs.
Capstone
All Forestry students participate in a capstone experience (FORS440 Forest Stand Management) that integrates program components and translates theory into practice.  This is accomplished through a semester-long project where groups of students develop stand-level management plans for a partnering landowner.  Through this experience, Forestry students have created a lasting legacy of active forest management in western Montana: student plans have been implemented from each of the last eight years' classes.  Management objectives vary each year, but have recently included reintroduction of fire, restoration of historic stand structure, public safety, promoting elk winter range, and promotion of the culturally-important blue camas.  Student plans have met these objectives through the application of commercial timber harvest, prescribed fire, mechanical and hand treatments.
Work Experience
All Forestry students are expected to gain a minimum of 400 hours of degree-related work experience prior to graduation.  For most students, this looks like a minimum of one summer of full-time paid natural resource-related work.  Students are supported in their search for summer work through UM's job board and announcements circulated through faculty and classes, as well as on-campus recruitment by regional employers.
Study Abroad
Forestry students have the opportunity to include a semester or year studying abroad.  Faculty advisors work with each student to understand how courses taken at a partnering institution apply to the student's UM-Forestry program.  For most students, courses can be selected that meet Professional Elective requirements within the Forestry program.  Majors in Forestry at the University of Montana also qualify for Franke Sustainability Fellowships, which fund international research and education focused on sustainability. Learn more about study abroad opportunities at UM.
Undergraduate research in the forestry degree
Opportunities for undergraduate research within Forestry include both paid and volunteer positions that often involve working with state and federal agencies and with NGOs. Explore undergraduate research opportunities at UM.
Real-world experience is brought into the classroom   
UM Forestry faculty don't just teach conservation forestry, we practice it.  These real-world applications are brought back into the classroom to ground our teaching in current practice.  Examples include:
Carl Sielstad, Associate Professor and Fire/Fuels Program Manager for UM's National Center for Landscape Fire Analysis serves as a core member of the Blackfoot Prescribed Fire Working Group, coordinated through the Blackfoot Challenge, and is the burn boss for many cross-boundary prescribed burns throughout the Blackfoot watershed.  
Kelsey Jensco, Associate Professor of Watershed Hydrology, is the Montana State Climatologist and through the Montana Climate Office maintains a network of sensors across the state that provides real-time weather and soil moisture information for farmers and land managers.
Beth Dodson, Professor of Forest Operations, is the statewide team leader for Montana's biennial Forestry Best Management Practices field evaluations.
Edwin Burke, Professor of Wood Science, is the Director of the University of Montana Wood Science Laboratory, an ISO 17025-Accredited Mechanical Testing Laboratory at the University, and regularly involves students in Forest Products classes in laboratory exercises where students procure, prepare, test and evaluate performance of wood and wood-based products for industry.
Careers
A degree in Forestry from UM sets students up for a broad array of natural resource careers. Accreditation by the Society of American Foresters assures that alumni meet the educational requirements of federal service within 460-series positions.  Alumni work in federal, state, forest industry, and NGO sectors.  Almost all of our alumni find jobs in their field of study, and many have gone on to leadership roles that directly contribute to the conservation and management of forests across the state, nation, and world.
Potential jobs include:
Our bachelor's degree program prepares you for a wide range of jobs such as:
Forester
Silviculturist
Procurement forester
Wildland firefighter
Fuels management officer
Forestry technician
Forest contract administrator
Forest ecologist
Forest consultant
Product and Process Quality Control
Forest planner
Graduate student
With time and experience, many of our Forestry bachelor's degree graduates advance into leadership roles within their respective organizations. Many career paths are not straight, and the foundation in forest science and emphasis on integrative and critical thinking skills emphasized in the BS Forestry degree prepares graduates to excel in a wide range of natural resource-related careers across the spectrum of governmental agencies, NGOs, and the private sector.
Salary range
Foresters earn an average of $67,710 per year nationally, according to recent data from the U.S. Bureau of Labor Statistics. Missoula, MT currently ranks as the US metropolitan area with the highest concentration of Forestry jobs, with a mean annual salary of $66,600.