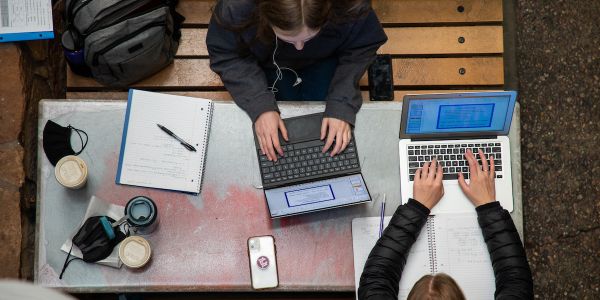 This program has a very strong regional placement track record; we have placed students at local nonprofits, tech companies, traditional CPA firms, governmental organizations (just to mention a few). Also, if you're interested in starting, or are already running, your own business and are in need of upping your accounting game, this program could be for you!
We offer students two degree pathways: the Associates of Applied Science - Accounting Technology (which requires a total of 63 credits and takes four semesters for full-time students at 15 credits/semester), and the Certificate of Applied Science - Accounting Fundamentals (30 credits over two semesters).
Our program will equip you with bookkeeping skills and the fundamentals of accounting.
Here's what to expect:
Small classes with professors that care about you individually,
Dedicated practicing accountants teaching your core courses,
Real life applications integrated into your coursework,
Flexible options – online, traditional, and hybrid classes.
Curriculum
Associate of Applied Science
Certificate of Applied Science
What are students saying...
"Missoula College has given me a chance to learn and grow in a field I am passionate about. With only a few months of school left, I look forward to starting the next chapter in my life and beginning a satisfying career as an assistant controller at Boone & Crockett Club. I feel the curriculum adequately prepares you for the workforce. It has been the most challenging and rewarding thing I have ever done. Hands down the best decision I ever made." - Jessica Fahlgren
"What makes the Accounting Technology program compelling? It's both challenging and rewarding. Completing this program will secure a great paying career that is very flexible, diverse, and is in demand in many different areas of interest." - Gretchen Reum
"I found this program to be challenging and rewarding. I have gained professional skills and knowledge while completing the Accounting Technology Program at Missoula College. I am now qualified to hold several professional positions, as a bookkeeper and will be completing my Bachelors in Accounting on the UM Mountain Campus within the next two years. Earning my degree from Missoula College was the best thing I could have done to be a better provider for my family." - Jessica Peterson
"The return on investment for my education is remarkable for both my career and personal growth. The associates degree I earned was not just a piece of paper, but a gateway to new beginnings and opportunities..." - Tina Plute