First-Year New Student Orientation
Welcome to the UM Family!
We are so excited you chose to become a Grizzly! Here's some information to help you get started with your transition to campus.
The New Student Orientation experience extends far beyond course registration. It provides you an opportunity to become engaged with your classmates and your community, to gain the necessary tools to become a successful student and to understand your new responsibilities as a UM student, as well as gain insight into some of the challenges and opportunities that lie ahead.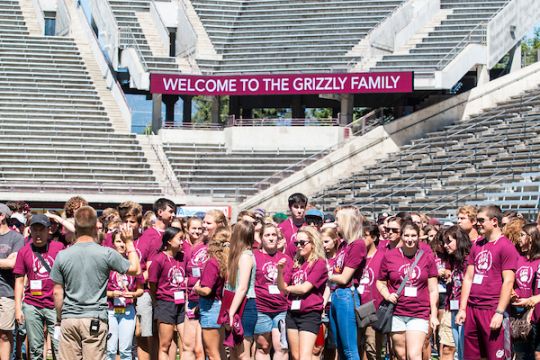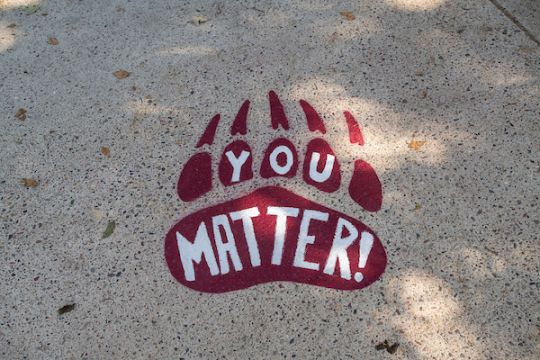 First-Year Students Beginning in the Fall
Online Bear Tracks
Bear Tracks is your personalized checklist, and will help move you forward in the onboarding process toward academic advising and course registration.  Keep an eye on your Bear Tracks checklist, as new tasks may be added throughout the spring and summer.  Contact the Undergraduate Admissions Office at 406-243-6266 or admiss@mso.umt.edu with any questions or for assistance logging in.  
New Student Orientation
In addition to Bear Tracks, all first-year students are expected to attend our in-person New Student Orientation program. This five-day program, which includes move-in day for students living on campus, will provide an opportunity for you to meet your incoming peers, get to know the campus and the Missoula community, and learn about what it means to be a student at the University of Montana.
All first-year students who confirm their enrollment in Bear Tracks are automatically signed up for New Student Orientation - no additional steps are necessary.
New Student Orientation is meant to aid students in a successful social and academic transition to college and will include sessions such as:
- Bystander Intervention Training
- Student-led activities and discussions
- Supporting Your Success sessions about academic support, finances, health, and safety
- Opportunities to meet your academic and social homes on campus     
- and the Big Sky Experience!
Your Big Sky Experience
During the five-day orientation program in August, students will participate in a multi-day team-based immersion experience within the community focused on one of six areas:
- Environment and Sustainability
- Business and Entrepreneurship
- Science and Technology
- Communication and Artistic Expression
- Health and Human Development
- Justice, Policy and Public Service
View a list of the 2021 campus and community partners here to get an idea of the opportunities you will see this coming fall 2022.
New Student Residence Hall Arrival
The official move-in day for the residence halls is Monday, Aug. 22 2022.  Students attending orientation will be able to use their meal plans, as well as live in their assigned residence hall room beginning this day unless arrangements for early arrival are made with a specific program (marching band, FLBs, FWE, athletics, etc.) or the UM Housing Office directly.
Parent and Family New Student Orientation Programming
Parents and families are invited to attend programming on Monday during arrival day, as well as Tuesday morning for the kick-off of New Student Orientation.  There is a special student success FAQ panel scheduled imemdiately following the welcome and after your students are dismissed to their orietnation groups.  Your students will be on their own with their small group for the rest of the week.
Pre-Orientation Trips and Special Groups
Flathead Lake Biological Station Overnight Trip (FLBS)
We are excited to announce a brand-new pre-orientation trip and want to invite you to join us at the Flathead Lake Biological Station for this special overnight experience! Similar to the Freshman Wilderness Experience, this trip will bring a small group of 20 incoming first-year students together for a multiday adventure at UM's world-class freshwater research and education facility on Flathead Lake.  This trip is in addition to the on-campus New Student Orientation program and is specifically designed to set you up for a successful transition to UM.
The cost is $200 per student and covers transportation, food, and lodging.  Students will need to move into their residence halls on Thursday, August 18, 2022, to be prepared for departure the following morning.  Students will spend three nights at FLBS and return to campus on the 22nd to participate in New Student Orientation the rest of the week.
Freshman Wilderness Experience (FWE)
The Freshman Wilderness Experience will introduce students to the incredibly stunning natural surroundings in western Montana. Students do not need any prior outdoor experience to participate. Most importantly, it is a chance for students to meet each other, explore Montana and form lasting friendships before classes begin on campus.  Students have the option to participate in a wilderness backpacking ($275) or canoeing trip ($350), but space is limited!
Those students participating in FWE will need to move into their residence hall rooms prior to check-in for FWE on August 18th at 1 p.m., before New Student Orientation begins the following week.  Groups will be in the field from Aug. 19-22 and will return to campus to participate in New Student Orientation the rest of the week. For more information and to register, visit the FWE website here.
New students who are joining the Grizzly Marching Band should follow the instructions of the band director regarding move-in, arrival, and orientation.  We work closely together to ensure all new students get to experience important aspects of the New Student Orientation program with their peers.  All Grizzly Marching Band students will be automatically placed into a Big Sky Experience group together.
Depending on your sport, there are a wide variety of obligations prior to and during New Student Orientation.  We work closely with the athletic advising team and coaches to ensure student-athletes get to participate in as much of the orientation program with their peers as possible.  Please follow the direction of your academic advisor and coaches.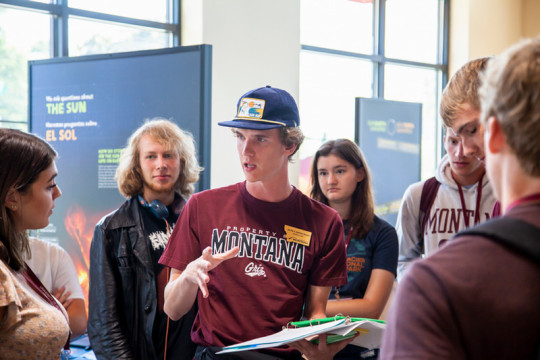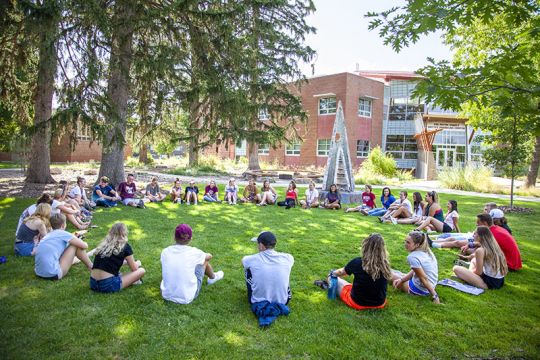 Information for Other Student Types
First-Year Students Beginning in the Spring
Online Bear Tracks
Bear Tracks is a required online program and your first step to becoming a Griz. It's designed to help you explore academic options, register for courses, and get a head start on other important next steps for college – even before New Student Orientation. It's also a fun opportunity to get acquainted with the UM community! For more information, please visit the Bear Tracks website.
New Student Orientation
January 13-14, 2022
Students beginning at UM or the Missoula College this spring should plan on attending New Student Orientation January 13-14, 2022 in person on the Mountain Campus.  The official move-in day for students living in the residence halls is Wednesday, January 12, 2022. View the full schedule of events here.