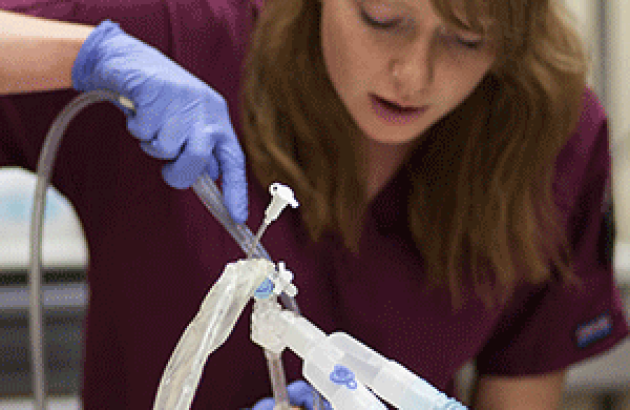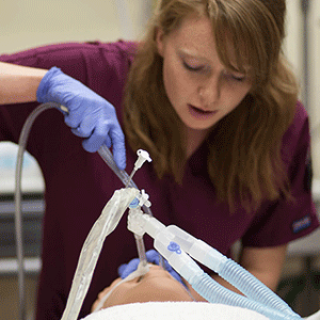 Respiratory Pathway
As members of a team of health care professionals, respiratory therapists evaluate, treat and manage patients of all ages suffering from respiratory illnesses and other cardiopulmonary disorders.  These services are provided in wide variety of clinical settings including, but not limited to: hospitals, long term acute care facilities, physician offices and clinics, and patients' homes.
Respiratory Care
Respiratory Care is an allied health specialty, which plays a vital role in modern medicine and the health care industry.  According to the American Association for Respiratory Care (AARC), "Respiratory Care is the health care discipline that specializes in the promotion of optimum cardiopulmonary function and health and wellness.
Respiratory therapists are expected to behave in a manner consistent with the standards and ethics of all health care professionals.  In addition to performing respiratory care procedures, respiratory therapists employ critical thinking, patient/environment assessment skills, and utilization of evidence-based clinical practice guidelines to develop and implement effective care plans, patient-driven protocols, disease-based clinical pathways, and disease management programs.
Application for Annual Fall Admission
Completion of all general health pre-requisite courses with a minimum 2.75 GPA in the core courses.
Minimum grade of C- in all prerequisite courses.
Applicants are required to "job shadow" a Respiratory Care practitioner in the workplace. Consult the Respiratory Care Program Director for details.
Submit completed application packet to the HP Administrative Assistant by April 2 for Autumn entry into the program.
The admission requirements and application process are under constant review. All prospective applicants should be in regular and consistent contact with their faculty advisor (typically the Program Director) throughout their preparation for application to the program in order to ensure that all admission criteria are being satisfied. The faculty of the Respiratory Care program wishes to promote the success of all students by providing support as needed.
The Respiratory Program specific admission application can be found here.
Note: If a student has not completed the general health core courses until the end of spring session, he/she should still apply in spring semester and request a provisional acceptance contingent upon successful completion of general health core courses during the summer session.
Students must complete BLS, prior to entry into the clinical phase of the program.

Students must complete all required hours, programmatic course evaluations, assignments, and clinical rotations prior to graduation. (Refer to individual course syllabi for specific content, learning objectives / outcomes, and competency requirements.) Examination requirements prior to graduation include:

a Therapist Multiple-Choice (TMC) Examination SAE; and
the Clinical Simulation Examination (CSE) SAE.



Students must maintain a B average on all program coursework and be considered in good standing and meet all criteria to receive the Applied Science degree in Respiratory Care.


The Program Goals and Standards clearly delineate that graduates of the Respiratory Care Program shall demonstrate clinical competency in all aspects of patient care.  Clinical tasks shall be evaluated and satisfactory proficiency must be demonstrated for all tasks within the clinical practices.  A student must achieve a satisfactory level of competency for all required clinical task prior to graduation.
U.S. Department of Education Notice
The U.S. Department of Education now requires that all programs leading to State Licensure or National Certification must disclose whether or not their program meets the requirements of Licensure in each state.
Degree-specific Requirements
The University of Montana catalog details degree specific credits and course requirements.
Accreditation and Program Goals
The goal of the program is, "To prepare graduates with demonstrated competence in the cognitive (knowledge), psychomotor (skills), and affective (behavior) domains of respiratory care practice as performed by registered respiratory therapists (RRTs)" Commission on Accreditation for Respiratory Care (CoARC) standard 3.01.
The program is 16 months in length (3 semesters and 1 summer session), which includes the program AA prerequisite courses. The Respiratory Care Program at The University of Montana Missoula College is accredited by the Commission on Accreditation for Respiratory Care (www.coarc.com).  "CoARC accredits respiratory therapy education programs in the United States. To achieve this end, it utilizes an 'outcomes based' process. Programmatic outcomes are performance indicators that reflect the extent to which the educational goals of the program are achieved and by which program effectiveness is documented." The CoARC programmatic outcomes data may be accessed via the CoARC site. The University of Montana Missoula College Respiratory Care Program's CoARC number is 200468. Graduates receive the degree of Associate of Applied Science in Respiratory Care.
Students admitted to the program are required to rotate to clinical sites outside the Missoula area on a periodic basis. These rotations take place during the spring semester, summer session and autumn semester of the second year. The clinical sites are located throughout Montana and Idaho. Transportation and housing are the student's responsibility.
Note: Based on gas, food and lodging expenses for out-of-town clinical rotations or seminars, budget for approximately $3,500.00 over the course of the program (spring, summer session and fall of the second year).
Starting salaries are excellent with premiums paid for evening, night, and weekend shifts. Jobs are plentiful throughout the United States. Graduates are eligible to take the credentialing examinations administered by the National Board for Respiratory Care (NBRC) which lead to the Registered Respiratory Therapist (RRT) credential. Licensure requirements in the state of Montana also are met by successful completion of the NBRC Entry Level (CRT) examination.
For more information regarding outcomes please visit the Occupational Outlook Handbook for Respiratory Therapists here. 
Respiratory Therapist Scope of Practice
acquiring and evaluating clinical data;
assessing the cardiopulmonary status of patients;
performing and assisting in the performance of prescribed diagnostic studies, such as drawing blood samples, performing blood gas analysis, pulmonary function testing, and applying adequate recording electrodes using polysomnographic techniques;
utilizing data to assess the appropriateness of prescribed respiratory care;
establishing therapeutic goals for patients with cardiopulmonary disease;
participating in the development and modification of respiratory care plans;
case management of patients with cardiopulmonary and related diseases;
initiating ordered respiratory care, evaluating and monitoring patients' responses to such care, modifying the prescribed respiratory therapy and cardiopulmonary procedures, and life support endeavors to achieve desired therapeutic objectives;
initiating and conducting prescribed pulmonary rehabilitation;
providing patient, family, and community education;
promoting cardiopulmonary wellness, disease prevention, and disease management;
participating in life support activities as required; and
promoting evidence-based medicine, research, and clinical practice guidelines.