Ecological Restoration Minor
The Minor in Ecological Restoration at the University of Montana links our understanding of ecology to help restore degraded ecosystems. 
Explore how ecological principals are used to information ecological restoration globally, gain exposure to potential career paths in restoration, and see an array of local restoration activities.
The University of Montana is an outstanding location to study ecological restoration.
Our surrounding forests, grasslands, and aquatic ecosystems are exceptional outdoor laboratories, where you can learn how ecosystems work and apply your knowledge to ecological restoration. Missoula is hotbed for restoration activities with many non-profit organizations, private consulting firms and federal, state, and local agencies focusing on restoration of the surrounding areas.
In this minor, students will gain knowledge in basic ecology and ecosystem sciences classes. Through field trips and case studies in the two required restoration courses, students will learn how ecological principals help information restoration activities and gain exposure to activities near Missoula. Motivated students can apply for training opportunities through internships and seasonal jobs to build their resume and gain more experience. In addition to the array of practitioners working on projects, our faculty are active scientists, providing opportunities to engage in research around restoration practices locally, nationally, and internationally.
Advisor: Lisa Eby  Professor of Aquatic Ecology; Undergraduate Program Director, Ecosystem Science & Restoration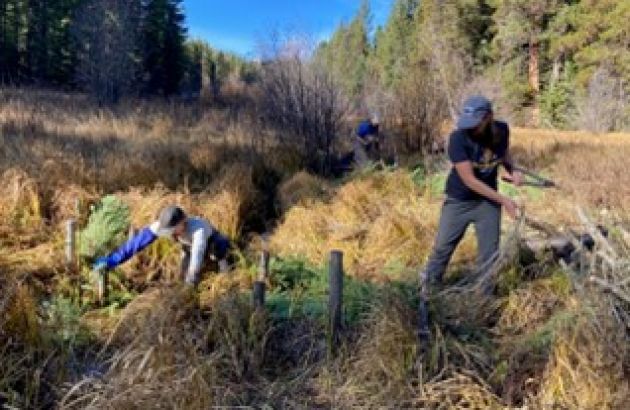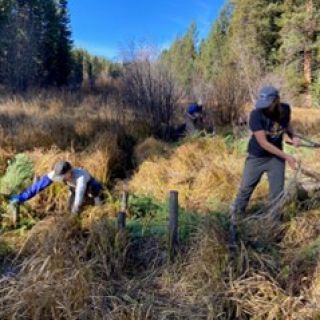 Experiential Learning
Students on a field trip for NRSM 265 building beaver mimicry structures on Teepee Creek, MT associated with a restoration project that has many partners, from the Clark Fork Coalition, University of Montana, and the Lolo National Forest.
Minor Requirements
The minor in ecological restoration helps prepare you for many of the careers that now incorporate restoration into their daily activities, as well as help focus students who would like to focus on restoration for their profession. The minor is a nice complement to many majors including the Biological Sciences, Environmental Science and Sustainability, Forestry, Wildlife Biology, Geosciences, and Environmental Studies.
The minor requires 24 credits including courses in ecology (at least 3 credits), restoration (6 credits), statistics (3 credits), ecosystem science and management (9 credits), and human dimensions of natural resource management (3 credits). The minor has quite a bit of flexibility, allowing students to focus on either aquatic or terrestrial ecosystems, but we expect students to take the two core restoration courses (NRSM 265 and NRSM 465) or transfer equivalent courses.
We strongly advise that students interested in a career in ecological restoration work to enroll in a major associated with the environmental sciences, take part in restoration activities associated with volunteer efforts, summer jobs, and get involved with the UM Society for Ecological Restoration.