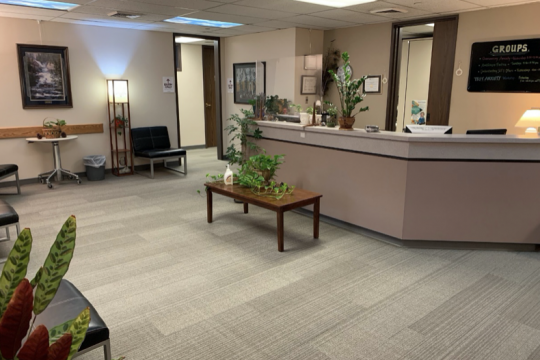 Welcome to Curry Health Center Counseling Services. We provide a confidential and inclusive environment to address the personal, behavioral and mental health needs of all UM and Missoula College students. We specialize in addressing the concerns and goals of our diverse community. Every student has to navigate a wide variety of stressors and challenges during their college career.
We're here to offer support as well as assist in getting connected to resources on and off campus. Our licensed counselors, social workers and psychologists, as well as advanced graduate students, offer individual and group therapy in addition to urgent counseling and ADHD testing services. Your initial consultation is no cost and subsequent individual sessions are $25 (up to a total of 12 sessions in an academic year). There is no cost to Group Therapy.
Making an appointment is easy and we prioritize getting students in as quickly as possible.
As the COVID-19 pandemic evolves, counseling services can be conducted in-person or via Zoom, depending on the student's wishes. If Zoom is used, Counseling Services uses an encrypted and HIPAA compliant version of Zoom. Students who are unable to arrange a private location for their counseling, or have technical challenges, are welcome to use one of our office 'Zoom Rooms'. If a student wants to meet in person, the student will need to have a pandemic screen before entering the office and will need to wear a mask or face covering throughout their session.  Counseling Services follows the same COVID-19 mitigation protocols as the University of Montana campus.
Diversity and Inclusion
Counseling Services supports the University's efforts towards campus unity and inclusion. We embrace the inherent value of diversity and endeavor to promote a safe environment that respects and upholds the dignity and civil rights of all persons. We acknowledge the injustice and profound impact of discrimination and marginalization of individuals and groups. We strive to promote students' ongoing academic, personal and multicultural growth and welcome dialogue of varying perspectives.
Counseling Services acknowledges the colonization of the indigenous land and its people in Montana and that the University of Montana resides on the original homelands of the Selis (Salish), Ksanka (Kootenai), and Qlispe (Kalispel) tribes.  We also recognize the relationship the Amskapi Pikuni (Blackfeet), Nimiipuu (Nez Perce), Shoshone, Bannock, and Schitsu'umsh (Coeur D'Alene) had and have with this land. We give thanks to these ancestral grounds and honor the rights and wisdom of indigenous peoples past, present, and future. Our actions are aimed at respecting tribal sovereignty, empowering Indigenous scholars, and creating safe environments for all students to live, work, learn, and grow together in equitable and positive ways.
Contact
Call 406-243-4712 to connect directly with the scheduling front desk. You may also schedule an Initial Counseling Appointment on-line through the Student Health Portal. If you are unable to call or schedule on-line please contact mary.rust@mso.umt.edu to reach the front desk manager.
Due to a high demand for counseling services, wait times for an Initial Consultation can be 1 to 4 weeks. Please contact Counseling Services directly if you're experiencing a crisis to get seen immediately (between 8am and 5pm). See below for 'after-hours' emergency contact information.
Wondering about your Mental Health?
Free online screenings for depression, anxiety, eating concerns, alcohol abuse, and more. Wondering whether or not to come in? Try the free, online screening.
Thriving Campus
Thriving Campus is a referral app to link students to counselors throughout Montana that have current availability. 
Location
Curry Health Center West Entrance, Downstairs and to the Left
Room 076
After Hours Emergency Contact
If you are experiencing a mental health crisis and seeking immediate help, call 911,
go to the nearest hospital emergency room or call UMPD Campus Safety at 406-243-4000
      Additional options:
24/7 National Suicide Prevention Lifeline/Crisis counseling 1-800-273-TALK(8255)
24/7 Community Resource line, text 211 or go to: https://montana211.org/
National Crisis Text line, text "HOME to 741741
LGBTQIA2S+ Students, text "START" to 678678
STUDENTS OF COLOR, text "STEVE" to 741741
The Strong Hearts Native Helpline:  (844) 762-8483
PLEASE NOTE: We are not Medicaid, Medicare, or TRICARE providers. They will not pay for any services received at Curry Health Center